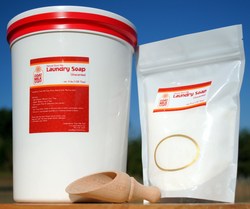 Just wet the stain, wet the stick and rub it on the stain. The results are amazing as the stick removes stains ranging from tomato and barbecue sauce to grass or blood stains
Charlestown, IN (Vocus) October 8, 2010
Goat Milk Stuff™, known for home-made, luxuriously-creamy, chemical-free GMS goat milk soaps, successfully launched GMS™ Laundry Soap and GMS Stain Sticks. These GMS laundry soaps provide an all-natural way to clean cloths spotlessly, naturally, and in an environmentally responsible way, announced PJ Jonas, co-founder of GMS.
The GMS Laundry Soap is all natural and in high-efficiency washers requires just one tablespoon of GMS powder to get clothes clean. For especially grimy or dirty laundry, or with non high-efficiency machines, two tablespoons of GMS soap are recommended.
Economically priced and sold on the company's Goat Milk Stuff website, each 10-ounce zip-lock bag of GMS Laundry Soap has powder enough for up to 20 wash loads and is sold online at $5 per bag. The larger 5-pound pail of GMS Laundry Soap costs $34 and has enough powder for up to 160 wash loads of laundry.
The GMS Stain Sticks, available online at GoatMilkStuff.com for $5 a stick, have tea tree and orange essential oils added to help break down food and oil stains. "Just wet the stain, wet the stick and rub it on the stain. The results are amazing as the stick removes stains ranging from tomato and barbecue sauce to grass or blood stains," says PJ Jonas.
GMS Laundry Soap and GMS Stain Sticks are the latest in an array of goat milk soaps, lotions, lip balms and bath bombs sold online at http://www.GoatMilkStuff.com and in select retail stores around the USA.
PJ was inspired to start soapmaking after being concerned about the chemical ingredients in most shampoos and bath products used by the children. With the help of her husband, Jim, and their eight children, she created a business that provides natural body care products to customers in America and worldwide.
PJ noted, "We are proud of our products and our business. We work hard to serve our customers and are pleased that Business Week Magazine, in its Entrepreneurial News section at http://tinyurl.com/36blp2d, reported about the progress of Goat Milk Stuff."
Jim Jonas said, "We use real goat milk soap to make our GMS Laundry Soap. This offers customers an alternative to store-bought laundry detergents that might irritate their skin and that can be bad for the environment. Our GMS Laundry Soap gets clothes extremely clean without producing too many suds. This is better for the life and performance of washing machines, particularly those that are high efficiency."
Goat Milk Stuff is a family business that PJ and Jim Jonas run with the help of their eight young children and a barn full of goats.
"We started out with one batch of goat milk soap to make natural soaps for our children. With word-of-mouth and a constant request for our soaps, we have grown into a company that ships products to all 50 states and internationally," said PJ.
"Goat Milk Stuff™ is an example of the American entrepreneurial spirit in action. We are teaching the children to be young entrepreneurs as their work and their assistance in the business directly impacts the family's success," said Jim Jonas.
With Jim and PJ running things, the young Jonas sisters of Brett, Indigo and Jade spend some of their day bagging the goat milk soap, while the Jonas brothers of Colter, Emery, Fletcher, Greyden and Hewitt milk and feed the goats. Aged 3 to 13 (no twins), the children love playing with and tending to the goats, particularly newborn goat kids. Supervised by Mom and Dad, the children's chores and real-world business experiences complement their homeschool education.
"At Goat Milk Stuff, we produce the highest quality goat milk soap products. We sell them at reasonable prices, so our ever-growing base of loyal and new customers can indulge their skin with the natural goodness of goat milk," added Jim. "The Goat Milk Stuff™ slogan of "Work Hard. Get Dirty. Use Good Soap™" typifies the principles the Jonas Family devotes to their products."
Goat Milk Stuff™ is based in Charlestown, Indiana, and markets natural goat milk soaps. Goat Milk Stuff™ and GMS™ are trademarked brands and assure the finest quality of product and value. Look for Goat Milk Stuff™ Goat Milk Soap, GMS Lip Balm, GMS Lotions, GMS Bath Bombs and GMS Laundry products that are environmentally friendly and produced, marketed and priced responsibly to offer consumers the finest Goat Milk Soaps and related bath products in America.
Online at http://www.GoatMilkStuff.com, the Jonas' company markets a full range of products that are quickly shipped directly to consumers. The Goat Milk Stuff™ website also lists retail stores across America where shoppers can find Goat Milk Stuff™ products. Media contact is Brian Dobson at DobsonPR.com or bd (at) dobsonpr (dot) com.
###