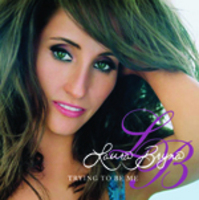 I Don't Have a Thing to Wear
Los Angeles, CA (PRWEB) October 13, 2009
Music recording artist Laura Bryna has signed an international record and licensing agreement with AGR Television Records in Hamburg, Germany. AGR is distributed by the international division of Universal Music Group.
AGR Television Records distributes such well known U.S. artists as Tracy Lawrence and Mark Chesnutt. The new CD by Bryna, 'Trying to be Me', will be a collection of previously released music in addition to some new material by the petite brunette with the powerhouse voice and will be released early next year.
The international version has several bonus tracks ("Out the Window" and "I Don't Have a Thing to Wear"). The agreement with AGR and Bryna is a multi CD deal. The multi faceted performer is currently working on material for a follow up CD sometime in late 2010.
"We're excited to be a part of Laura Bryna's success and rapidly growing popularity," said Rolf J. Schmidt, Managing Director of AGR Television Records. "Coming off the heels of a sold out performance at the House of Blues in Los Angeles, a number of critically acclaimed performances around the U.S. with A-list headliners and a growing fan base in Europe tells us that Laura is poised to break out to a worldwide audience."
"Having the opportunity to reach a worldwide audience is a dream come true," said Bryna. "I'm looking forward to supporting the efforts of AGR with appearances throughout Europe and to meeting new fans wherever that takes us."
Bryna has been busy working on new music as well as film and television opportunities. She is the celebrity spokesperson for the United States Air Guard's national media campaign and co-wrote the campaign's theme song "Hometown Heroes." She recently celebrated the women of the Air Guard and America's Hometown Heroes at the House of Blues. In addition to her work with the Air Guard, Bryna is celebrity spokesperson for the National Guard's Youth Foundation and sits on the board of directors for the Mid-Atlantic Chapter of the Make-A-Wish Foundation.
Earlier this year, Bryna's single, "Make A Wish", spent 10 consecutive weeks on AOL Billboard's Most Streamed Download charts. Bryna is considered a crossover artist, with her music being a mix of country rock and pop. For more information on Laura Bryna, please visit http://www.laurabryna.com.
Press Contacts:
Howard Ruben Eileen Koch
818.823.1971 310.441.1000
hruben@howardruben.com eileen@eileenkoch.com
###