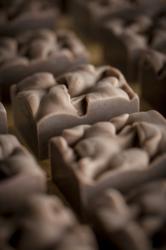 Osmia's lavender soaps transform your daily shower into a skin-pampering, aromatherapy session!
Carbondale, CO (PRWEB) February 28, 2013
Spring is almost upon us and Osmia Organics, the luxury, organic skin care line from Carbondale, CO, has released two new organic lavender-scented soaps.
The Lavender Pine Soap is a beautiful, elegant purple bar soap with Osmia's trademark sculpted surface and a soothing scent that is both earthy and flowery. Organically grown bulgarian lavender essential oil and certified organic shea butter create a soothing, gentle soap with a luxurious lather. "Organic fir needle essential oil combines with organic lavender essential oil to recreate the luscious scent of a pine forest, while wild-harvested red sandalwood powder and organic buttermilk powder provide two types of gentle exfoliation," explains Osmia Organics founder Dr. Sarah Villafranco.
Inspired by her mother's husband, Dr. Villafranco also created the Lavender Shea Soap, a no frills, non-textured organic soap bar. With its subtle lavender smell and its skin softening olive oil and shea butter, the Lavender Shea Soap moisturizes the skin with simple, natural ingredients.
"Osmia's organic lavender soaps provide a soothing experience for the mind and the body," says Dr. Villafranco. "They transform your daily shower into a skin-pampering, aromatherapy session!" The media seems to agree. Osmia's organic soaps recently won Organic Beauty Talk's "Best in Green" award and have been featured in Daily Candy, New York Magazine and The New York Times to name a few.
Learn more about Osmia Organics by visiting OsmiaOrganics.com.
About Osmia Organics
Founded in 2012 by Dr. Sarah Villafranco, a physician with a passion for potions, Osmia Organics is a full line of luxury, natural skin care and beauty products. The products are all handmade, in small batches, in the picturesque mountain town of Carbondale, Colorado. Dr. Villafranco developed the organic skin care recipes in an effort to bridge the gap between the obsessively natural products she wanted to use on herself and the luxury products that all women crave. Best-selling items include the natural soaps, the face serums, and the organic bath milk.