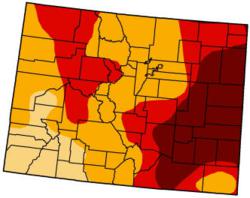 We are pleased and thankful for the recent snowfalls. We're concerned, however, that recent media reports tell only part of the story.
Denver, Colorado (PRWEB) March 19, 2013
Colorado lawn care and tree service company Swingle Lawn, Tree & Landscape Care is voicing concern that recent media reports may lull Colorado homeowners and commercial property managers into complacency, just in time for water restrictions to take place.
"As stewards of the Colorado landscape, we are pleased and thankful for the recent snowfalls," said Tom Tolkacz, Swingle owner and CEO. "We're concerned, however, that recent media reports tellonly part of the story. To see healthy lawns and trees in Denver and the Colorado Front Range this Spring, we'll need to do show them extra TLC."
Tolkacz specifically referenced a March 1, 2013, Denver Post article trumpeting above-average snowfall in February and suggesting "wet storms" on their way in March.
"The article is factually accurate," said Tolkacz, "but incomplete and possibly misleading. As we've cautioned throughout the 2012-2013 drought, protecting the health and beauty of our landscapes for the 2013 season will require actions above and beyond regular maintenance."
The U.S. Drought Monitor updated its status on March 5, 2013, to include the late February snowfall. Denver and the Colorado Front Range remain in a "Severe" drought with much of the state, including the northern mountains, in "Extreme" drought.
Tolkacz pointed to mandatory water restrictions announced Thursday, March 14, 2013, restricting Denver Water customers' use of water to hydrate their lawns and trees.
"Hopefully, some Colorado homeowners and property managers listened when we implored tree root watering back in September," said Tolkacz, "but surely now everyone is in the mindset to take action". He offered the most successful trees will be those that receive extra care through:

Tree Root Watering with ReCharge® - ReCharge contains Yuccah®, a natural plant extract that provides needed moisture to the soil. This helps trees and shrubs make better use of water from sprinklers and any moisture Mother Nature delivers.
Tree Pruning – In addition to reducing risk from spring storms, clearing unwanted growth and dead branches helps the tree allocate water more efficiently and grow to be its most beautiful.
Soil Enhancement with ReVive® – ReVive is an organic lawn treatment that helps loosen soil and increase water penetration. It improves root-zone moisture and improves soil drainage, so a smaller amount of water has a bigger impact. The healthier your soil, the healthier the tree root system it supports.
"It's a mistake to believe recent snowfall has ended the drought," Tolkacz advised, "and it's a mistake to believe good things will come from a lack of diligence."
About Swingle Lawn, Tree & Landscape Care
Founded in Denver in 1947, Swingle Lawn, Tree and Landscape Care has grown to be the one of the largest residential and commercial lawn service and tree care companies in Colorado, employing more certified arborists than any other Colorado company. For information please contact Vince Serio VSerio (at) MySwingle (dot) com (303) 337-6200 or visit MySwingle (dot)com.