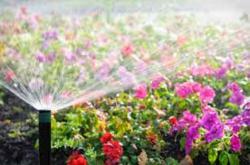 Future Green Irrigation can help with a new install or service to an old lawn sprinkler system to help optimize water savings, curb appeal and property value.
Toronto, ON (PRWEB) March 29, 2013
Lawn aficionados and enthusiasts can learn a little more about getting 'green' at the 2013 Newmarket home show this year. Future Green Irrigation will be on site sharing their expertise as the industry's leading residential lawn sprinkler and commercial irrigation business. The show runs from April 5-7.
The locally owned and Canadian operated business has over 30 years of experience in design and completion of lawn sprinkler systems for homes and commercial irrigation systems. This year, Future Green Irrigation is offering a free Rain Sensor to anyone who books a new install by the end of June 2013.
The company has been credited with providing top irrigation systems and solutions to some of Ontario's most reputable golf courses along with many other institutions and establishments in Toronto, the Greater Toronto Area (GTA) Durham and Barrie, Ontario.
Guests visiting the Future Green Irrigation booth (Booth #115) will learn about great offers and solutions for their home or commercial properties. The company carries top automatic lawn sprinkler systems such as Hunter, Toro and Rain Bird Sprinklers that provide properties with superior and effective irrigation coverage. Visitors can also learn how Future Green Irrigation can help with a new install or service to an old system to help optimize water savings, curb appeal and property value. Their top-quality sprinkler systems are designed for performance and durability.
Future Green Irrigation approaches each project, large or small with the same personal attention and care that has come to be the trademark of the irrigation company. They create a personalized, custom plan paying close attention to their consumer's requirements and vision in order to develop an environmentally friendly system to meet any and all irrigation needs.
From elaborate irrigation systems for large commercial properties or a smaller lawn sprinkler system for a home or residential property, Future Green Irrigation creates solutions that are designed with water conservation and efficiency in mind. This saves money and water which means reduced energy and water bills for their customers. It also means grass or turf receives only the amount of water it requires at any given time. Future Green Irrigation solutions help the environment while increasing property value and curb appeal with a lush lawn. All systems are environmentally friendly and sustainable.
Visitors can find out more on how to protect their property or by visiting Future Green Irrigation at Booth#155 at the 2013 Newmarket Home & Lifestyle Show from April 5-7, 2013. Jeff Valley and Shawn Gill will show you how you can save money, save water and help the environment with one of their lawn sprinkler systems or irrigation systems. They are fully insured, professional and trustworthy. Their hands-on approach means you can expect quality and satisfaction.
Visit Future Green Irrigation at the 2013 Home & Lifestyle Show at the Magna Centre, 800 Mulock Drive, Newmarket. Booth #115. Or go online http://www.futuregreenirrigation.ca. Call (416) 553-7488 in Toronto, 905-960-0040 in York Region or 705-999-0907 in Barrie or toll free 1-866-936-5296 for a free consultation with no obligation at any time.
ABOUT FUTURE GREEN IRRIGATION
It's our mission to provide our customers with the best in lawn sprinkler system installation and service that exceeds all expectations - whether it's a new installation or maintaining an existing system. With Future Green Irrigation, no project is too large or too small and you deal directly with the principals of our business, which provides you with a commitment to quality through a personalized, hands-on approach and peace-of-mind through accountability and trust. We serve Toronto, the GTA, Barrie, Newmarket and Simcoe County.