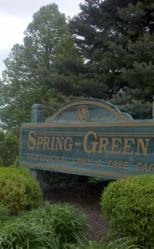 Plainfield, IL (PRWEB) August 20, 2012
Based on the success of their existing Indiana franchise owners, Spring-Green Lawn Care plans for further growth in Indiana, especially throughout the Indianapolis market. There are currently six franchise owners serving the Hoosier State, covering areas in and around Indianapolis, Fort Wayne, Columbus, Madison and South Bend.
"We have a great mix of franchise owners in Indiana. They range from a new owner who is already succeeding in his first season to an owner who has decades of experience and is continuing to grow," said James Young, president of Spring-Green Lawn Care. "It's a great state for existing owners to build their business and for prospective entrepreneurs to start a new franchise. We are specifically targeting the Greenwood, Ind., area near Indianapolis where we currently have three franchise owners who have been in business a combined 15 years. We'd love to fill in the rest of the market and expand throughout the state. We're also seeking qualified franchise candidates to expand into the Merrillville, Lafayette, Bloomington and Evansville, Ind. markets."
Spring-Green's franchise owners in the Hoosier State include Tony Schmidt in southeastern Indiana near Madison and Columbus, who is in the middle of his first season and—on the other end of the spectrum—Candy Wolfe, who worked at her Spring-Green franchise for 12 years before purchasing the business in 1991 from the previous owner. Wolfe's franchise services northwestern Indiana including South Bend and Mishawaka. Ryan Meinika in Fort Wayne opened his Spring-Green franchise right out of college and has been featured in Lawn & Landscape Magazine. He recently expanded into a second territory to accelerate the growth of his business. In central Indiana, Spring-Green Lawn Care currently has three franchise owners in the greater Indianapolis area covering areas generally north and west of the city including Indianapolis proper.
Spring-Green franchise owners typically come from diverse backgrounds and the Indiana franchise owners are no different. In their previous professional careers, they have worked in the automotive retail industry, as a restaurant manager, a manufacturing engineer and a steel mill worker.
Spring-Green has several ownership options including the new Green Industry Executive Model that targets existing green industry entrepreneurs seeking to diversify and expand their business by adding a Spring-Green franchise. Through the Green Associate Assistance Program, new franchise owners may qualify for up to $10,000 of the initial franchise fee to be used toward initial start-up expenses. There is also a reduced royalty fee for the first 12 months of operation.
Founded in 1977, Plainfield, Illinois-based Spring-Green Lawn Care has been delivering lawn and tree care services nationwide for over 35 years. Its service is centered on the beautification of residential and commercial customers in middle-class and affluent neighborhoods and communities. Spring-Green is an attractive opportunity for candidates who do not want to be tied to a storefront operation, retail hours or set appointments. Franchise owners enjoy a lifestyle of being in an outdoor-based business with recurring revenues that allow the business to continue to scale. Spring-Green currently has 119 franchises operating in 26 states and projections call for 10 new franchises in 2012. For more information, visit http://www.springgreenfranchise.com, http://www.spring-greenfranchiseblog.com or follow Spring-Green Franchise on Facebook, Twitter, LinkedIn or Google+.