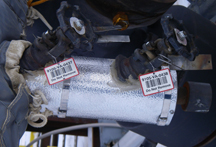 When choosing tags, I look for what's current at the time and I go to the company that offers the highest value solution. Camcode offered me that.
Cleveland, OH (PRWEB) June 29, 2011
The Camcode Division of Horizons Incorporated, a global leader in barcode solutions for asset tracking and fugitive emissions applications, is now featured in Resource Engineering & Maintenance (REM) magazine's current Spring 2011 issue for its Leak Detection and Repair (LDAR) Tag expertise.
REM magazine is Canada's reliability source for industrial engineers, plant operations and maintenance professionals in large scale, asset-intensive resource industries. REM's mission is to provide these professionals with information they need to increase manufacturing production and equipment running time, integrate new technology, reduce operating costs, manage groups of skilled professionals in an industrial setting and encourage career development.
In the article titled, "Tag You're It; Bar-Code Tags Keep Hundreds of Thousands of Leak Points in Check," the magazine features one of Camcode's LDAR customers, a leading Canadian environmental service company, whose LDAR services depend on a durable, accurate barcode tag system, which they found with Camcode's Metalphoto® with Teflon® anodized aluminum LDAR Tags and Steam Trap Tags.
"I've been quite happy with Camcode," the company's founder and president said. "When choosing tags, I look for what's current at the time and I go to the company that offers the highest value solution. Camcode offered me that."
"Camcode's durable LDAR Tags and Steam Trap Tags are an integral part of automating an LDAR technician's work process," said Jon Keserich, vice president of Sales for Camcode. "Our barcode labels have been proven to work with leading mobile software solutions and field data acquisition devices. This means field technicians can perform field data acquisition more quickly and with greater accuracy, which results in increased productivity and reduced labor costs."
A link to the entire article is available on REM's website, both digital editions and print editions.
About Camcode: Founded in 1979, Camcode is a recognized worldwide leader in the design and manufacture of durable pre-print barcode labels, such as asset tags and UID labels for asset tracking and unique identification (UID) applications. Camcode's asset tags improve the efficiency of asset tracking systems by eliminating errors caused during manual data collection and increasing data acquisition speed. Camcode's Metalphoto® anodized aluminum barcode labels, premium plastic label constructions, and proprietary coating technologies satisfy the most demanding applications. For more information, visit http://www.camcode.com or call 800-627-3917.
Metalphoto® is a registered trademark of Horizons Incorporated.
###