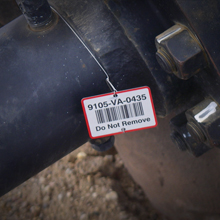 Camcode's durable LDAR Tags and Steam Trap Tags are an integral part of automating an LDAR technician's work process.
Cleveland, OH (PRWEB) May 17, 2011
The Camcode Division of Horizons Incorporated, a global leader in barcode solutions for asset tracking and fugitive emissions applications, will exhibit at the 11th Annual International Society of Automation (ISA) Fugitive Emissions-Leak Detection and Repair (LDAR) Symposium, from May 17-19, 2011 in New Orleans, LA.
This event has become the air compliance industry's only conference where professionals who manage fugitive emissions programs, specifically those who oversee leak detection and repair equipment, share best practices for Leak Detection and Repair, and Directed Inspection and Maintenance programs.
"Camcode's durable LDAR Tags and Steam Trap Tags are an integral part of automating an LDAR technician's work process," said Jon Keserich, Vice President of Sales for Camcode. "Our barcode labels have been proven to work with leading mobile software solutions and field data acquisition devices. This means field technicians can perform field data acquisition more quickly and with greater accuracy, which results in increased productivity and reduced labor costs."
At the symposium, Camcode will showcase its selection of LDAR Tags and Steam Trap Tags, including popular Metalphoto® with Teflon® LDAR Tags. In addition, Computerized Maintenance Management System (CMMS) asset tags will also be on hand at Camcode's booth.
ABOUT CAMCODE: Founded in 1979, Camcode is a recognized worldwide leader in the design and manufacture of durable pre-print barcode labels, such as asset tags and UID labels for asset tracking and unique identification (UID) applications. Camcode's asset tags improve the efficiency of asset tracking systems by eliminating errors caused during manual data collection and increasing data acquisition speed. Camcode's Metalphoto® anodized aluminum barcode labels, premium plastic label constructions, and proprietary coating technologies satisfy the most demanding applications. For more information, visit http://www.camcode.com or call 800-627-3917.
Metalphoto® is a registered trademark of Horizons Incorporated.
ABOUT ISA: Founded in 1945, the International Society of Automation (ISA) is a leading, global, nonprofit organization that is setting the standard for automation by helping over 30,000 worldwide members and other professionals solve difficult technical problems, while enhancing their leadership and personal career capabilities. Based in Research Triangle Park, North Carolina, ISA develops standards, certifies industry professionals, provides education and training, publishes books and technical articles, and hosts conferences and exhibitions for automation professionals. ISA is the founding sponsor of the Automation Federation.
# # #