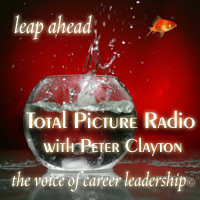 succession planning, knowledge transfer and mentoring has become more important than ever
New York, NY (PRWEB) March 5, 2008
In an exclusive 27 minute Leadership Channel interview podcast on Total Picture Radio (http://www.totalpicture.com)], Emily Neustadt said, "Mentoring can be a pivotal relationship," she told TPR host Peter Clayton. "...in my first mentoring assignment, the head of an investment bank went before all of the senior leaders of the firm and said, 'You know, I don't have an MBA. I'm here because of my drive, and my mentors.'"
"Companies need to develop their next generation of leaders to compete in the war for talent, which remains very real, even in this job economy." - Emily Neustadt
Neustadt, a successful New York City based Leadership Coach, Strategist and Organizational Development Consultant, has helped implement leading-edge mentoring and executive leadership programs with many organizations; especially those in the financial services, media and entertainment industries. Emily's Total Picture Radio interview focuses on all aspects of effective mentoring programs. She reveals that after participating in mentoring programs, many mentees (or proteges as they're often called), have realized that fast-tracking their careers has more to do with whom they are working with, than their job title. Effective mentoring programs help develop leadership qualities specific to a corporate culture.
The in-depth Leadership Channel interview with Peter Clayton, the host and producer of the popular career podcast, focuses on the critical advantage effective mentoring programs can provide - to the mentee and the organization. As the baby boomer senior executives in many Fortune 500 firms reach retirement, "succession planning, knowledge transfer and mentoring has become more important than ever," Neustadt said. Speaking about group mentoring programs, she added, "It's a leadership development opportunity. It raises the visibility of the proteges, it gives the mentor access to a group of people who are not in his or her reporting line... so it gives that proteges exposure to someone they would not normally run across... the relationships really matter."
About Neustadt Consulting:
Emily's specialty is in strategic planning and delivering feedback in a way that motivates professionals and clarifies the next needed step. She teaches these skills to individuals and teams. Her systems-centered perspective grounds the coaching experience in the reality of the organization's business and political environment, enabling clients to achieve exceptional results, utilizing their gifts and talents.
About Total Picture Radio
Total Picture Radio is a career empowerment service for knowledge workers. We are committed to sharing ideas and commentary from thought leaders in business, strategy, marketing, career management, media, and the Internet. TPR podcasts actionable information for high-performance careerists - and business leaders creating talent-focused organizations. Our in-depth interviews include best-selling authors, senior executives, visionaries, leadership coaches, and entrepreneurs. Total Picture Radio is "The Voice of Career Leadership." Sponsorship opportunities are available.
# # #