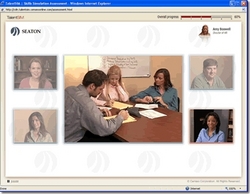 Maitland, FL (PRWEB) March 30, 2009
Censeo Corporation, the leading provider of innovative and user-friendly employee assessment technologies, is pleased to announce the availability of its valid, legally-defensible online leadership assessment, The TalentSIM Simulation.
TalentSIM allows leadership candidates or existing managers to "take the controls" of an engaging leadership simulation. Through the eyes of five different leaders, participants are introduced to a number of challenging, work-related situations. Each situation is realistically presented through a combination of narration, video, photos, and animation. In addition, some situations offer important information via emails, voicemails, financial data, charts, and notes that assist the participant in making key business decisions.
At various points throughout the leadership assessment, participants are asked to indicate how they would handle particular situations -- what they believe is the most effective and least effective course of action, as well as a variety of other response formats. In all, over 100 data points are collected about a participant's leadership behavior.
TalentSIM was designed to address a significant need in the leadership assessment market -- helping organizations accurately and affordably measure the core competencies of entry-level through mid-level managers. For most organizations, TalentSIM is a good fit for high-potentials who desire to become a manager all the way through leaders at the Director level.
The simulation measures tand provides detailed feedback on the following seven competencies:
1) Striving for Excellence
2) Performance Management
3) Influencing Others
4) Retaining Employees
5) Organizational Savvy
6) Analysis & Problem Solving
7) Leading/Managing Change
As a 100% online simulation, TalentSIM is easy to administer and highly scalable to meet the needs of a variety of leadership selection and development programs. The Simulation also represents a cost effective alternative to many existing, labor-intensive leadership assessments.
Additional information about TalentSIM, including a fully featured free trial, can be accessed via the following:
TalentSIM Website: http://www.talentsim.com
TalentSIM Leadership Selection 3 Minute Tour
TalentSIM Leadership Development 3 Minute Tour
For more information about Censeo, contact Jim Higgins at (407) 645-1600 x150.
###