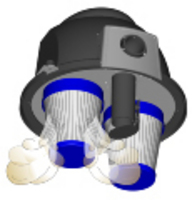 The HEPA vacuum is the single most important piece of equipment for contractors to stay in compliance with EPA regulations. Homeowners are demanding to see specifications on vacuum equipment. Lead Sucker vacuums are the clear choice for smart contractors.
(PRWEB) August 23, 2010
New federal Environmental Protection Agency ("EPA") lead paint regulations known as "RRP" demand the use of HEPA vacuums for job site clean up. Work practices for contractors are going through a dramatic change requiring the use of purpose designed lead paint HEPA vacuums. A major issue with most vacuums is the rate at which the vacuum filters clog, necessitating on the job filter changes. This has a tremendous financial cost. In addition, each time the lead paint vacuum is opened, the workers, homeowners, and job site are potentially exposed to significant poisoning consequences. Golden Gate Enterprises, Inc, has a dramatic breakthrough that eliminates typical filter clogging. The technology is know as HEPA N0-Clog and is incorporated in to the company's Lead Sucker vacuum.
Common renovation activities like sanding, cutting, and demolition can create hazardous lead dust and chips by disturbing lead-based paint, which can be harmful to adults and children.
To protect against this risk, on April 22, 2008, EPA issued a rule requiring the use of lead-safe practices and other actions aimed at preventing lead poisoning. Under the rule, beginning April 22, 2010, contractors performing renovation, repair and painting projects that disturb lead-based paint in homes, child care facilities, and schools built before 1978 must be certified and must follow specific work practices to prevent lead contamination.
EPA requires that firms performing renovation, repair, and painting projects that disturb lead based paint in pre-1978 homes, child care facilities and schools be certified by EPA and that they use certified renovators who are trained by EPA-approved training providers to follow lead-safe work practices. Individuals can become certified renovators by taking an eight-hour training course from an EPA-approved training provider.
Contractors must use lead-safe work practices and follow procedures. One of the requirements is that the job site is cleaned up with a HEPA vacuum. HEPA vacuums are designed to filter 99.97% of dust down to .3 microns in size. This is critical for lead dust clean up activities. Contractors that don't follow proper procedures can be fined up to $37,500 for non-compliance. "Homeowners that employee contractors that use poor work practices and don't use the best quality HEPA vacuums will end up with lead contaminated houses posing major health risks", stated Paul Gordon, President of Golden Gate Enterprises, Inc., manufacturer of the Lead Sucker HEPA vacuum. What homeowners and contractors are finding out, is that simple jobs that disturb more than 6 square feet of lead containing surfaces will require these procedures. Simple bathroom and kitchen remodels, replacement windows, painting, and any activities that disturb lead containing areas are subject to the new laws. Contractors can find out more about the regulations and fines at Lead Paint Regulations.
One of the major risks is contamination of employees, jobs sites, and homeowners when contractors have to change filters in the vacuums. Since the filters capture so much fine dust, they are prone to frequent clogging necessitating changing and replacement on the job site. Not only is this costly (HEPA filters are expensive) but of greater consequence is the release of lead dust during the filter changing process. Smart contractors are recognizing they want to avoid filter changes at all costs to reduce this liability.
Golden Gate Enterprises Inc. has released their Lead Sucker HEPA filter vacuum that is EPA compliant and incorporates a dramatic technology breakthrough known as HEPA No-Clog. Paul Gordon, president of the firm stated "Our filter system effectively cleans itself approximately every 10 seconds, eliminating the clogged filter problem" . Industry professionals seem to agree that solving the clogged filter problem is crucial to managing lead contamination. Gio Fanelli, principal at ERT in San Jose, CA, a leading environmental training and asbestos,lead, and mold abatement company , stated " The Lead Sucker is a game changer that every contractor should look at. Lead contamination will be the single biggest liability for contractors with the new RRP regulations. Lead Sucker's HEPA No-Clog technology will dramatically reduce risks and costs for contractors" .
The Lead Sucker HEPA No-Clog system has a high appeal to federal, state and local governments. Not only can they save thousands of tax payer dollars per year in HEPA filter costs for each vacuum, but they can ensure they are employing the best work safe practices by minimizing filter changes. Contractors and Pest Control Operators are echoing the same sentiments. Jim Cumberworth, owner of California Structural Restoration, a licensed Pest Control Operator , said " I believe the Lead Sucker will be the new standard of care for job site clean up. You don't want to be answering to homeowners, inspectors, and possibly lawyers why you are changing filters full of lead dust on your job site when there is technology that can dramatically reduce if not eliminate filter changing. That's why we use the Lead Sucker vacuum".
EPA RRP regulations are going to change work site practices for contractors across the country. Lead paint has been a known and well documented hazard. Homeowners will be exercising their legal rights under the new regulations, forcing contractors to use all reasonable steps to stay in compliance. Lead Sucker vacuums can help solve one part of the equation.
Lead Sucker and HEPA No-Clog are Trademarks of Golden Gate Enterprises, Inc.
###