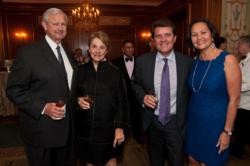 Yonkers, N.Y. (PRWEB) November 06, 2012
Friends and supporters gathered at the recent Leake & Watts Annual Awards Gala, raising more than $405,000 to help fund their child welfare, special education, early education, developmental disabilities, and juvenile justice programs in the New York area. New York City Councilwoman Annabel Palma and longtime community volunteer Nora Schaaf were honored at the event held at the Pierre Hotel in Manhattan, which was chaired by Nikki and Andrew van der Vord and emceed by Bill Evans, Senior Meteorologist, WABC-TV.
"Leake & Watts is grateful to our many friends who generously offer steadfast support of our work. With their help, we can offer high-quality programs and expand our services to our vulnerable neighbors throughout the New York area," said Alan Mucatel, Executive Director. "I congratulate our honorees, Nora Schaaf and Councilwoman Annabel Palma, who make our community better, have had a significant impact on Leake & Watts' life affirming work, and continually strive to help children, adults and families achieve success."
Biondi High School graduate Alex Valenzuela moved the audience by sharing with the 200 attendees how Leake & Watts helped him overcome adversity, graduate from high school, and direct him toward college where he is now working toward a degree in nursing. Valenzuela also now works as a Direct Care Worker in one of Leake & Watts' community residences for adults with developmental disabilities and worked as a lifeguard at Leake & Watts' Yonkers campus over the summer.
Councilwoman Palma received the Thelma Stackhouse Award in recognition of her efforts to secure funding for programs for the underserved in her community, particularly for early childhood education. Nora Schaaf, who has volunteered in the community for 56 years and served on the Leake & Watts board from 1976 to 1990, received the Community Leadership Award for Distinguished Service. Rod Gilbert, Hall of Fame New York Ranger, generously auctioned off a tour of Madison Square Garden and his personal tickets to a Ranger's Game.