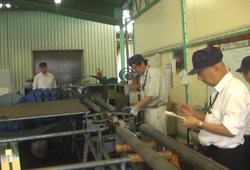 Our team of consultants have years of experience in the manufacturing industry helping our customers cut costs and boost improvement using the continuous improvement possible in TPS and lean manufacturing
Tokyo, Japan (PRWEB) February 9, 2010
Hirayama Consulting introduces a new service line, sending consultants into the field to provide clients with Kaizen solutions. Hirayama offers clients on-site consultation in Toyota Production System (TPS), quality management and other aspects of lean manufacturing. Consultants formerly did not travel to client locations.
Interested parties from other countries are now also invited into Hirayama's Japanese training facilities for in-depth training programs. Opening the trainings to other nationalities offers a broader base for seminars and learning opportunities relating to lean manufacturing and the stream-lined continuous improvement processes used in Kaizen.
"Our team of consultants have years of experience in the manufacturing industry helping our customers cut costs and boost improvement using the continuous improvement possible in TPS and lean manufacturing," says Yoshikazu Hirayama, Managing Director for Hirayama Consulting, "We help clients implement Kaizen, or continuous improvement, to improve their business models and profits."
Kaizen, or the practice of continuous improvement, was developed by Toyota following World War II. Working with limited resources, companies adopting the Kaizen methods work to reduce waste in all areas of the business to effectively streamline operations, cut costs and boost productivity.
For additional information about Kaizen, TPS or lean manufacturing opportunities available at client location or training opportunities through Hirayama Consulting, contact Yoshikazu Hirayama
or visit http://en.genbakaizen.com/.
About Hirayama Consulting
Hirayama Consulting enjoys tremendous achievement in the manufacturing industry and repeat clients thanks to a team of highly experienced consultants. Hirayama consultants have years of experience working in companies such as Toyota, Canon, Sony and Honda.
Contact:
Yoshikazu Hirayama
Managing Director
Hirayama Consulting
3F Mutsumi Bldg.,
2-12-6 Nihonbashi, Chuo-ku,
Tokyo, Japan
http://en.genbakaizen.com/
###