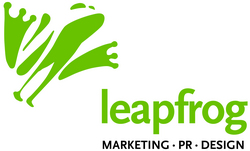 We have followed our own advice, and really energized our own 'surthrival' plan to make sure we, and, in turn, our clients, are staying two steps ahead in our understanding of technologies that can give us a marketing edge
Greensboro, NC (Vocus) June 4, 2009
Leapfrog Marketing, PR and Design has announced a series of new partnerships and personnel moves resulting from its focus on helping companies market their way to "economic surthrival."
With a new management team in place - including the recent addition of marketing veteran Stephanie Morris - the full-service, integrated marketing agency has added several new clients, including:

DataSquirrel, a startup fronted by technology executive Ed Kennedy;
Creative Containers, a wholesaler of unique handbags and totes;
Computer Problems (formerly Red Computer), an information technologies firm;
Franchise Logistics, which connects individuals with franchise opportunities; and
The Drawing Academy, a new enterprise by High Point entrepreneur Melody Miller devoted to helping the community gain a better understanding of the power of visual arts.
Each of these clients engaged Leapfrog for its cutting-edge approach to PR and marketing, which focuses on "point-to-point" communication as a means of helping companies rise above the clutter.
"We have followed our own advice, and really energized our own 'surthrival' plan to make sure we, and, in turn, our clients, are staying two steps ahead in our understanding of technologies that can give us a marketing edge," said Leapfrog President Jordan Bressler.
Helping Bressler institute Leapfrog's "Marketing 2.0" vision is Morris, who recently became Vice President, Agency Operations and principal. Morris has helped create marketing successes for many entities - including a seven-year turn as the director of marketing and public relations at Guilford Technical Community College (GTCC). "I love being part of the dynamic and talented team that Leapfrog Marketing, PR and Design has become," Morris said. "Having triumphed over my own personal adversity, I love helping others develop the ingenuity necessary for success in today's marketplace."
Other Leapfrog personnel moves:
Irene Forde, who has been with the firm for nearly a decade, earned the designation of principal in addition to her title as director of administrative services;
Shelley Jones was promoted to Senior Art Director and now oversees the agency's creative department;
Linda Schumacher was named senior sales executive and will focus on developing new business for the agency;
Amy Pitts became public relations account executive in recognition of her role in facilitating grass roots and national PR efforts at Leapfrog;
Matthew Ward was hired as manager of traffic and production.
To create your purpose-driven PR and marketing campaign, contact the Leapfrog team by calling 336-544-2911 or visit http://www.leapfrogmktg.com.
(Photos Attached. More headshots available upon request)
Contact:
Amy Pitts
Leapfrog Marketing | PR | Design
336-544-2903
# # #