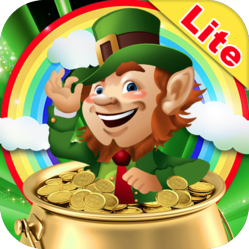 makes you feel like you're in the rolling hills of Ireland
Duluth, GA (PRWEB) March 17, 2012
Anyone who's ever wondered whether a captured leprechaun really will fork over his gold will find the answer to that age-old question in a new iTunes game. Slated for release the week of St. Patrick's Day, Leapin' Leprechaun lets game players put a wily – and smart-mouthing – Paddy the leprechaun to the legendary test. If they can hurtle him through the air just right so that he lands in his hidden pots of coins, they'll take home the gold.
Nine months of market research has been invested in the development of Leapin' Leprechaun. The app has been uniquely designed to capture the iPad mobile game-playing market. It debut in the iTunes store just a day before St. Paddy's Day, and if early reviews are any indication, it will enthrall players precisely as it sets out to do.
One beta reviewer gave Leapin' Leprechaun kudos for its "awesome graphics," which includes a vibrant color scheme that features a rainbow trail each time the leprechaun is flicked. The reviewer also lauded the designers, saying, "They didn't skimp here. [Leapin' Leprechaun] makes you feel like you're in the rolling hills of Ireland." The game's developer, Irishman William McCarthy of Mobile Magnus, is particularly proud of this feedback since he intended for each level to transport players to totally different locations around Ireland.
Conceived primarily with the 7- to 16-year-old crowd in mind, Leapin' Leprechaun can be played by anyone with an iPod. Younger audiences, however, will find the mischievous ways and hilarious scolding of the main character, Paddy the Leprechaun, most relatable. Hence, McCarthy is paying serious attention to what this age group is saying.
In response to the demo, young players have called the game "very entertaining" and have singled it out as both "great fun to get the leprechaun to fly" and making them "laugh at what the leprechaun says." Adults are echoing this sentiment. "… the fun part is listening to Paddy chide you if you miss! His clever comments make you want to shut him up, or miss intentionally just to hear how he's going to rib you."
The initial St. Patrick's Day iTunes launch of Leapin' Leprechaun will feature the first three levels of the game along with a bonus level for free in the Lite version. The future full version will include more levels, culminating in six regular levels, one bonus level and one hidden level.
iPad owners who want to get into the St Patrick Day game mood can download Leapin' Leprechaun Lite at the iTunes store for free, visit http://itunes.apple.com/us/app/leapin-leprechaun-lite/id510916059