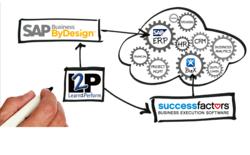 We've been partners with SAP since 2003 and SuccessFactors since 2005 in the Learning and Performance technology market.
Baltimore, Maryland (PRWEB) December 08, 2011
As if it were previously ordained, there is one partner in the SAP and SuccessFactors ecosystems who has been promoting the integration of these two solutions for the past 10 months. Now it appears that SAP and SuccessFactors were listening.
"We've been partners with SAP since 2003 and SuccessFactors since 2005 in the Learning and Performance technology market," says Steve Bradley, President and Founder of Learn2Perform. "Learn2Perform has been in the SAP training business since 1998 and we became one of their first ramp-up partners for the SAP Enterprise Learning Solution (EL) in 2003. We have always focused on helping organizations adopt business technology by leveraging Learning technology to help do that. Since 2003, we've been part of more than 30 major SAP EL projects and are recognized product experts. This year, we also became one of only a few SAP Authorized Education Partners, to deliver on-site SAP product training to their customers."
However, according to Mr. Bradley, the key to user adoption is people. That's why in 2005, Learn2Perform became the first business services partner of SuccessFactors to focus on Human Capital Management (HCM) technology to improve business execution. However, "I purposely sought out Cloud (or SaaS, as they were called back then) solutions," Bradley continues. "That is because the remote delivery model for implementation was compelling. We could hire highly skilled consultants who prefer to not travel. The customers benefited greatly. Implementations are faster at lower costs delivered by higher skilled professionals with little or no IT issues and no practical geographic boundaries! We chose to become a SuccessFactors reseller. I've always thought that SuccessFactors was a pioneer and they've proven it."
According to Terry Eisenmenger, Executive Consultant and Co-Practice Manager for Learn2Perform's SuccessFactors services, "After 6 years and almost 400 SuccessFactors projects, there are very few firms that can match that product expertise and likely none with our combined SAP and SuccessFactors depth. That's probably why SAP jumped at the chance to add Learn2Perform as a reseller of their new Cloud ERP solution, Business ByDesign, in February. Learn2Perform may be the only current partner in SAP's ecosystem with deep experience in SuccessFactors."
Mr. Bradley thinks that SAP and SuccessFactors customers will want to know what the merger means for them. More than a few will turn to Learn2Perform as the place for advice beyond the vendor on how to leverage this new business marriage to accelerate their HCM software decisions. As a long time HCM partner to both SAP and SuccessFactors, Learn2Perfrom will also be a valuable resource to help SAP and SuccessFactors account executives understand how to leverage the new relationship in business development opportunities as well as be a source for professional services.
About Learn2Perform
Headquartered in Baltimore, Maryland, with offices near Milwaukee, WI, and Toronto, Ontario, Learn2Perform is a full-service Learning and Performance consulting company, widely recognized for industry expertise, business focus and independent, client-biased solution delivery. Since 1998, Learn2Perform's mission has been to help organizations design, implement, and manage Learning and Performance solutions to address complex business problems and improve business performance. In addition to the parent organization, Learn2Perform operates two divisions; Learn2Perform Academy, specializing in product and end-user technology training including SAP and SuccessFactors; and Learn2Manage, a reseller and service provider for Cloud solutions, primarily SAP Business ByDesign and SuccessFactors Business Execution Suite (BizX).
(Additional information is available at Learn2Perform, L2P Academy and Learn2Manage).
® 2011 SAP AG. All rights reserved. ByDesign, and other SAP products and services mentioned herein as well as their respective logos are trademarks or registered trademarks of SAP AG in Germany and other countries. ® 2011 SuccessFactors. All rights reserved. Business Execution Suite (BizX) and all other product and service names mentioned are the trademarks of their respective companies. 2011 Learn2Perform™, Learn2Manage™, Learn2Perform Academy ™. All rights reserved.
SAP TO ACCELERATE CLOUD STRATEGY WITH ACQUISITION OF SUCCESSFACTORS- PRESS RELEASE
###