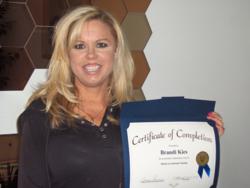 Brandi chose to train at the Hollywood Airbrush Tanning Academy because it offered a quick yet intense weekend course at a reasonable cost.
Los Angeles, CA (PRWEB) March 15, 2012
Hollywood Airbrush Tanning Academy is pleased to announce the latest graduate, Brandi Brimhall. The hands-on spray tanning course attracts students from across the nation. Brandi Brimhall decided to fly out from Arizona to learn the trade from the industries most experienced Airbrush Tanning professionals in Los Angeles. Her small hometown of Lakeside, Arizona lacks the best kept beauty secret of spray tanning. Brandi wanted to bring it to her small town so everyone can enjoy a celebrity glow. Brandi's soon-to-be-husband is a doctor and she is planning to combine her business with his business by offering spray tanning and Botox parties. She is excited to grow into a career path that is high in demand and here to stay. Brandi Brimhall named her business "Airbrushed Bodies by Brandi" and will be offering her spray tanning services out of "All That Glitters Salon & Boutique" located at 1400 E. White Mountain Blvd., Pinetop-Lakeside, Arizona 85935. Anyone interested in her services can call (928) 367-1910 or (928) 243-1554 or email brandi8895(at)gmail(dot)com. Brandi is also offering convenient mobile Airbrush Tanning services where she comes to your home or office.
Brandi chose to train at the Hollywood Airbrush Tanning Academy because it offered a quick yet intense weekend course at a reasonable cost. The training was provided by Simone Emmons, an experienced Airbrush Tanning business owner who shared her unique hands on spray tan technique in addition to smart business and marketing practices. This exclusive spray tan training course goes in-depth on mastering the necessary skills of using the HVLP spray gun, skin color matching, creating formulas suitable to different skin tones, protective equipment, FDA rules and regulations and how to manage and service clientele in the best manner. Airbrush tanning technicians are in high demand because of the increasing dangers of the sun and tanning beds. The Hollywood Airbrush Tanning Academy helps individuals get an edge in this growing industry.
About Hollywood Airbrush Tanning Academy:
Located in Los Angeles, California; the Hollywood Airbrush Tanning Academy offers an extensive Airbrush Tanning Certification course to those wishing to learn the exciting art and business of spray tanning. Airbrush Tanning business owner and instructor, Simone Emmons, has helped numerous entrepreneurs from Utah, Colorado, California and even Minnesota start a thriving airbrush tanning business. The spray tan program offers a unique hands-on course that is quick, efficient and reasonable in cost. Students have the option to take the course in either one full day or two half day sessions. Simone Emmons is not only a trainer, but also a mentor to her students and provides ongoing consultation to students after the course has been completed.
Individuals interested in learning and starting a career in airbrush tanning should visit the website at http://www.1daySprayTanTraining.com.