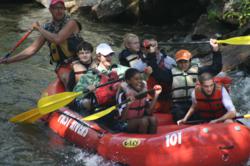 We always have a great time white water rafting and we are grateful to be able to provide this field trip for our students each year
Atlanta, GA (PRWEB) September 27, 2012
Students at Cumberland Academy of Georgia, Inc., an Atlanta high school for learning disabilities, enjoyed an exciting day of white water rafting on September 21, 2012. Students boarded two buses bound for the Nantahala River, which is located about two and one-half hours north of the school's campus. Led by members of Georgia State University's Touch the Earth program, Cumberland students were given safety instructions and reviewed on river policies and procedures. Next, the students suited up with life vests, rafts, and all the appropriate gear. Then, the students, excited and nervous with anticipation, began the nine mile rafting trip. Students enjoyed a break for lunch mid-point down the river, and boarded their rafts again for the remainder of the trip.
As the twelve rafts made their way to the end point, students were beaming with confidence, having gained self-esteem through the adventure and deepened personal relationships with each other. The new white water enthusiasts returned to Atlanta with an appreciation for the magnificence of nature and for the value of each team member. "We always have a great time white water rafting and we are grateful to be able to provide this field trip for our students each year," said Ms. Debbi Scarborough, Founder and Headmaster of Cumberland Academy of Georgia.
Cumberland Academy of Georgia is a SACS-CASI accredited, private, non-profit independent school dedicated to educating students with special needs. The ultimate goal for the Cumberland student is to become an independent, successful young adult. To reach this goal, students are taught to demonstrate appropriate interpersonal skills while working collaboratively in groups.
There are so many incredible opportunities for students to learn, experience, and thrive at Cumberland Academy of Georgia. The school provides a tailored learning experience for students with Asperger's Syndrome, High Functioning Autism, Learning Disabilities and ADD/ADHD. With a low student-to-teacher ratio, Cumberland Academy of Georgia is designed for the needs of many students who do not learn well in traditional settings.
Cumberland Academy of Georgia is growing and currently accepting applications for grades 4th through 12th. To schedule a tour of our school, please contact Terri Brooks, Director of Admissions at 404-835-9000 or email admissions(at)cumberlandacademy(dot)org. To learn more, please visit our web site.