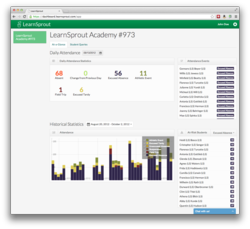 I found that with no training at all I was able to pull out very useful information about our students and their attendance trends.
SAN FRANCISCO, CA (PRWEB) March 12, 2013
LearnSprout, the first universal application programming interface (API) for K-12 education announced last week that it had registered more than 3,300 schools for its new Dashboard product. The company had been selected to participate in the LAUNCHedu competition at SXSWedu and advanced to the semifinal round where it made the announcement in front of a live audience and a panel of judges.
LearnSprout first announced Dashboard in November during the SIIA Innovation Incubator contest in New York and has been working with a handful of school districts to develop the product. "Immediately after opening LearnSprout Dashboard, I was able to easily navigate the data." said Dustin Koelzer, IT Administrator for Folsom Cordova Unified School District in Rancho Cordova, California. "I found that with no training at all I was able to pull out very useful information about our students and their attendance trends. The way the information is displayed makes it easy to quickly get good data. The user interface is so intuitive that I felt like I'd been using the dashboard for years."
LearnSprout Dashboard leverages the LearnSprout Connect API to reference live data directly from a school or district's student information system and converts the raw data into simple, easy to read charts and graphs. It is free to schools and districts and requires only a few minutes to set up.
"We knew from talking with our school partners that we were on to something big with Dashboard, but even we have been amazed by how much pent-up demand is out there." said Frank Chien, CEO of LearnSprout. "Existing solutions tend to be expensive and hard to integrate, so most schools have no good way of seeing the data inside their own student information systems."
When asked about how the company could support a free product, Frank answered "We wanted to avoid asking schools to pay because we understand how limited budgets are and how arduous the approval process can be. LearnSprout earns its revenue from developer partners who depend on the LearnSprout Connect API to integrate their software with a school or district's SIS."
On the question of security, Frank emphasized that "With LearnSprout Connect, schools control where the data flows and decide which systems they need to integrate with their SIS. Connect is far more secure than most integration methods currently in place and it keeps the data within the bounds of the school district. Privacy is a huge concern for us and we will never expose the data to anyone without the district's express permission." Details for the company's security policy are available on its website.
LearnSprout Dashboard is currently finishing its private Beta and will be starting a phased roll-out in April. Schools who are interested in plugging Dashboard into their SIS can register on the company's website at: LearnSprout.com/schools
About LearnSprout:
LearnSprout represents the latest thinking and best practices behind the development of Application Programming Interfaces (APIs) and has built the first universal API for K-12 education. By building a single integration that works across multiple student information systems (SIS), LearnSprout has opened the door to a world of student engagement data that until now, has been locked away, inaccessible to most K-12 administrators and aspiring edtech developers. Free to schools and districts, LearnSprout Connect is the easiest and most secure, FERPA compliant method for integrating an SIS within the edtech ecosystem.
LearnSprout was founded by Google, Facebook and Microsoft alumni Anthony Wu, Franklyn Chien and Joe Woo and supported by Andreessen Horowitz, Formation 8, Code for America and Imagine K12.
On the web: LearnSprout.com
Facebook: facebook.com/LearnSprout
Twitter: twitter.com/LearnSprout
For media inquiries:
Paul Smith, Marketing for LearnSprout, (916) 741-7644, paul(at)learnsprout(dot)com or @prsmith2009 (twitter)