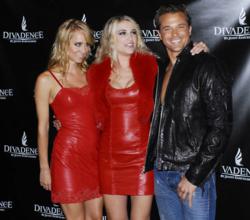 My goals of growing a luxury leather brand continue with unique collaborations and designs, taking leather to new heights each season
San Francisco, CA (PRWEB) October 22, 2011
West Coast Leather, San Francisco's luxury leather jacket boutique released their exclusive Anniversary Collection at New York Fashion Week in early September and it is currently available at their Design Boutique at 290 Sutter Street in San Francisco. West Coast Leather's Anniversary Collection launched with the new Swedish cosmetic brand DIVAdence by entrepreneur Jenny Samuelson on Friday, September 9, 2011. The show took place at District 36 in New York City in collaboration with Swarovski and featured a runway show by West Coast Leather and Victoria's Secret. For the DIVAdence launch, Fashion Director Skip Pas designed DIVAdence branded unique gifts for the VIP star-studded event. Skip created white pearlized cosmetic bags in black and white leather with hand lacing and platinum lining. He also designed three unique leather purses with Swarovski crystals and three different Limited Edition decorated leather jackets with Swarovski crystals for the event. Skip and Jenny originally met and decided to collaborate because of their mutual appreciation of crystals in design.
At New York Fashion Week, West Coast Leather Designer Skip Pas previewed a full collection of French Lace & Leather wear, with many of the pieces embellished with Swarovski crystals. He showed his elegant side with new sophisticated leather designs in rich Ferrari colors: white and champagne pearl, deep blue, grey slate, and rouge hues. The collection includes coatdresses, sexy skirts and long trench coats over evening dresses embellished with Avencon lace, intricate bustiers and exotic animal print creations. West Coast Leather showcased their luxurious side with intricate decorated Swarovski jackets, washed leather jackets with exotic inlays and hardware and their signature corset collection. Skip collaborated with O'Eve, a European lingerie designer to create a new leather and lingerie collection that was featured at this show. Also featured and shown with West Coast Leather designs were Cocoa Jeans from Colombia, a sexy decorated jean line sold at West Coast Leather. All these pieces are available at their Design Boutique located in San Francisco.
Design and Fashion Director Skip says, "My goals of growing a luxury leather brand continue with unique collaborations and designs, taking leather to new heights each season. One of Skip's trademark design concepts is that "Black Leather is Always in Fashion." As West Coast Leather grows, they continue to add complementary lines that look great with leather, like mesh and chain jewelry from Liquid Metal, Pyrate Style jackets and coats from Germany, Dark 8 Designs, Rogue State from New York and Ren Ellis, southwestern influenced military specialty leather jackets.
To contact West Coast Leather, please call (415) 362-8300 or visit them on the web at http://www.westcoastleather.com.
About West Coast Leather
West Coast Leather has been creating beautiful leather clothing since 2003. West Coast Leather creates new collections every season that reflect the latest styles in Europe and puts their own unique spin on them. West Coast Leather continues to push the envelope in leather design, offering the largest selection of fashionable men's leather coats and women's leather jackets, dresses, skirts and pants on the West Coast. They use eco-friendly vegetable-tanned leather from Italy and chrome free skins in many of their leather creations, and are always pushing the boundaries of leather style. At West Coast Leather, Skip and his staff strive to help each customer create a unique leather wardrobe -- they treat every client like a Rock Star.
###