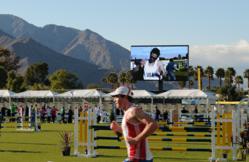 We work with Lighthouse because their LED video displays are the gold standard that everyone else copies.
Irvine, CA (PRWEB) March 26, 2013
LED display leader Lighthouse Technologies teamed with Mobile View to deliver the action to fans at the first World Cup of the 2013 Modern Pentathlon season, held in Palm Springs, California, February 20-23.
Mobile View rents LED video screens to sporting and special events throughout North America. Their company credo is to do whatever it takes to help make any event in which they participate a huge success.
"We work with Lighthouse," said John Sweeney, owner of Mobile View, "because their LED video displays are the gold standard that everyone else copies."
For the World Cup in Palm Springs, Mobile View elevated a 15' x 27' LED screen, comprised of 48 panels of Lighthouse Rn7-ER. The Rn7-ER utilizes 16-bit processing and Lighthouse's enhanced resolution technology. The 7mm visual resolution captures the attention and imagination of audiences with its M4 color uniformity and 6000-nit brightness.
"Lighthouse is proud to play a part in Olympic-level events," said Ed Whitaker, Lighthouse N.A.S.A. Director of Sales. "Mobile View's professionalism, expertise and flexible delivery methods enable Lighthouse to bring our state-of-the-art technology to non-traditional events such as the modern pentathlon."
The Modern Pentathlon, introduced at the 5th Olympiad in Stockholm (SWE) in 1912, comprises the contemporary sports of pistol shooting, fencing, swimming, horse riding and running, and embraces the spirit of its ancient counterpart, demanding courage, coordination, physical fitness, self-discipline and flexibility in ever changing circumstances.
"Our goal," added Sweeney, "is to exceed expectations in every category and make sure our clients feel they've received the best value available."
The Lighthouse Rn7-ER's lightweight casing makes installation and integration straightforward. With a weatherproof design and high brightness, the Rn7-ER is an economical choice for a multitude of rental applications.
"In the 13 years Mobile View has been in business we have had the opportunity to work with all types of LED products," said Sweeney. "None of these are as intuitive as the R7. It's extremely user-friendly."
Lighthouse and Mobile View are looking forward to a long, mutually beneficial relationship.
"We will continue to wow the crowds at the numerous venues we travel to throughout North America using the Lighthouse brand of products," said Sweeney.