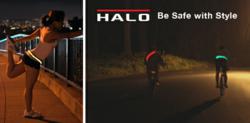 The HALO belt is convenient, super bright and just plain cool. It's a product that you want to be seen in, and isn't that the whole idea of nighttime safety gear?
San Francisco, CA (PRWEB) April 02, 2013
Elemental LED, a leading LED lighting company, announced today that it has entered into an exclusive North American distribution agreement with HALO, the maker of the LED fiber optic sport belt, messenger bag and strip.
The HALO sport belt is designed to make outdoor activities safer by addressing visibility without compromising convenience and style. HALO products address the tremendous market growth in all demographics regarding fitness and outdoor activity. Walking, jogging and biking remain the most popular physical activities today. In 2012, Outdoor Foundation™ reported outdoor recreation reached the highest participation level in the past five years. In 2011, outdoor participants made 11.5 billion outings. That is 1.4 billion more outings than 2010.
"Previous visibility safety products and clothing are bulky, inconvenient and not all that effective," said Elemental LED Director of Marketing Jim Puchbauer. "The HALO belt is convenient, lightweight, super bright and just plain cool. It's a product that you want to be seen in, and isn't that the whole idea of visibility safety gear?"
The partnership with Elemental LED promises to provide HALO with a wider customer reach. Elemental LED has established itself as a leading provider of next generation LED lighting solutions. The company's overall sales growth and corporate expansion over the past several years provides a foundation for the robust and focused marketing, sales, customer service and shipping support that can transform HALO into an internationally recognized brand.
"We are very excited about the new partnership with Elemental LED. We look forward to accelerating the market distribution of this great product and setting the stage for future product introductions across all of North America," said HALO Partner Morgan Combes.
Patented as the world's first LED technology based visibility belt, HALO combines LED and fiber optic technology to create a lightweight band of bright, 360 degree illumination. The patented LED system uses cutting-edge thermoplastic polyurethane fiber optics never seen before in a garment the size of an everyday belt. Nestled inside the latch of the belt are two nickel lithium batteries that last up to 75 non-consecutive hours. The HALO belt includes three settings, solid, strobe and flashing, and is available in four light color options.
"HALO's success has been astounding from the beginning. We spent a year perfecting the design and functionality of the HALO belt, and in the first six months following the release we experienced significant market buzz and customer adoption," said HALO Founder Vincent Ng.
HALO has received a significant amount of attention already, including stories by Fast Company, CNET, Wired Magazine and Men's Journal, all primarily focusing on the HALO belt's success in filling a niche for the cycling community: The HALO belt doubles as a bike light while riding and an ordinary fashionable belt. By signing an exclusive rights deal with HALO, Elemental LED is committed to opening up new markets for the product, which has universal appeal across child and adult safety clothing in all outdoor activities.
"There is nothing like the HALO Belt out there," Elemental LED Vice President of Business Development Matthew John said, "And everyone from bikers, runners, walkers, kids, sports teams to crossing guards will benefit from the safety this belt provides in such a fashionable format."
For more information about the HALO Belt, visit http://www.elementalled.com/halo.
About Elemental LED:
Elemental LED is a leading provider of LED lighting products and a market leader in customized LED solutions. As a market driven company we are dedicated to helping customers understand, adopt and benefit from LED lighting solutions through our combined LED lighting technology knowledge, deep product portfolio and extensive support services offering. In addition to our standard catalog of products, Elemental LED offers customer specific product design and engineering, project specific product customization and comprehensive customer service and education, from live phone support to online tutorials. Learn more at http://www.elementalled.com.
About HALO:
HALO is a San Francisco based company, started by two designers, with a goal of merging safety, fashion, and culture into an essential everyday product. HALO was designed originally as a safety belt for visibility that can be used on a daily basis for cycling, jogging, walking, sports, changing a tire on the side of the road or as a fashion statement. HALO creates illumination with a simple design and acts as an ordinary belt. LED lighting emits through fiber optics utilizing a greater surface area of visibility than ordinary reflectors. For more information, visit http://www.halobelt.com.