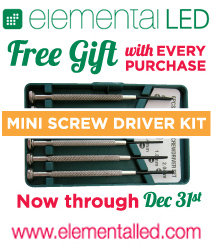 We knew the screwdriver kits would be the perfect holiday gift to our customers, who love to create, engineer and tinker.
San Francisco, CA (PRWEB) November 15, 2011
Elemental LED, a San Francisco Bay Area-based LED lighting company, is offering a special gift with purchase promotion to all customers who order during the 2011 holiday season. Elemental LED will include one Mini Screwdriver Kit with each order that the company ships between November 15th and January 1st.
The kit is small enough to easily fit inside a Christmas stocking, making it a perfect item to regift to fix-it and tinkering types. The compact kit is also practical, and includes six jewel screwdrivers in one case: a #0 and #1 Phillips, and a 1.2, 1.4, 1.6, and 2.0 mm Flat-head. The case is branded with the Elemental LED logo.
"When we sampled the screwdriver kits several months ago, we knew they would be the perfect holiday gift to our customers, who love to create, engineer and tinker," says Elemental LED Marketing Manager Charlotte Dick.
Elemental LED staff plans to include the screwdriver kits to customers who order LED color controllers and DMX decoders on a regular basis after the 2011 holidays. Those products have small screws that can pose a challenge to customers without the jewel screwdrivers already in their tool kit.
The holiday gift promotion began on November 15, 2011. To place your order and participate in the promotion, please visit http://www.elementalled.com.
About Elemental LED:
Elemental LED is where style meets sustainable lighting. Elemental LED offers a wide selection of LED lighting products for home and business owners, including LED strip lights, light bars, puck lights, wall washers, light bulbs, controllers, power supplies and more. Products include dimming, color-changing and waterproof functionality. Elemental LED offers in-house engineering and comprehensive customer service and education, from live phone support to online tutorials. LED lighting technology is the safest, hippest, and most energy efficient way to light up the world. Learn more at http://www.elementalled.com.
###