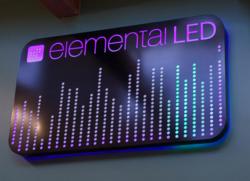 We have analyzed the sign fabrication industry, and tailored our services to make it easy for our customers to be successful with LED lighting.
Emeryville, CA (PRWEB) June 26, 2013
Elemental LED announced the launch of a new program of specialized services for sign makers today by adding to a multi-industry range of commercial offerings. The rapidly growing LED company has expanded its already industry leading commercial program by adding to a comprehensive service offering based on LED Wizard software from Aries Graphics International. The software, which has become a staple of the sign industry, allows Elemental LED's sign experts to accurately populate sign designs with the LED PURALIGHT™ Sign Module Series generating time saving, 100% accurate quote services for sign makers.
"We have analyzed the sign fabrication industry, and tailored our services to make it easy for our customers to be successful with LED lighting," said Elemental LED Marketing Director Jim Puchbauer. "We offer a free service to sign makers using LED Wizard to input their actual sign design and automatically populate LED modules into the overall design. Our PURALIGHT sign modules deliver IP67 rated high impact LED lighting and our quoting services streamline the sign fabrication quoting process. It's a powerful one-two punch of quality and service."
By picking up LED Wizard software from Aries Graphics International, Elemental LED utilizes a software platform that has been the industry standard for populating LED sign modules within channel letters and sign cabinets since 2007.
"The LED Wizard platform is a great tool for companies such as Elemental LED because it gives them the ability to review the sign maker's LED layout and apply their expertise to suggest or make changes directly to the LED Wizard layout file," said Aries Graphics International President Jeff Fassett. "Elemental also goes the extra mile and provides a time-saving LED lighting analysis and estimate service for sign fabricators that have not yet acquired LED Wizard software. We're thrilled to be working with them."
LED Wizard eliminates the tedious process of mapping LED layouts within traditional design programs. The PowerFlow features within LED Wizard give Elemental LED the ability to accurately auto-populate and make quick adjustments to LED lighting layouts for sign fabricators. By utilizing LED Wizard, Elemental LED's expert account team streamlines the collaboration process with the sign maker to save time and maximize the sign maker's profitability. LED Wizard provides detailed summary data for each project and accounts for every aspect of the sign's LED lighting system including wire paths and power supply recommendations. The program is widely known as the most complete and accurate sign lighting design software available today.
"Misquoting a sign design can be really costly for a sign fabricator," said Elemental LED National Sales Manager Craig McCauslan. "We combine a superior LED sign module product line with our knowledge of the sign fabrication industry and the precision of the LED Wizard platform to offer our signage clients unbeatable service. The result is a high-impact LED lighting arrangement for any unique sign design."
For more information about Elemental LED's sign fabrication and other business services, visit the Sign Makers section of Elemental LED's Business Solutions website: http://www.elementalled.com/business-solutions/sign-makers.
For more information about LED Wizard and the upcoming release of LED Wizard 7.1, visit http://www.ledwizard.com.
About Elemental LED:
Elemental LED is the recognized U.S. based leader of innovative LED solutions. We partner with our customers to understand their needs and deliver tailored product, services and education. We make it easy. We are dedicated to helping customers understand, adopt and benefit from LED lighting solutions through our combined LED lighting technology, customized product portfolio and extensive support services offering. Learn more at http://www.elementalled.com.
About Aries Graphics International:
Aries Graphics International has been a leading supplier of design software to the sign industry for over 25 years. We are the only company in the industry that provides software to design vinyl, printed, neon, and LED signs. Led by third generation sign makers, Aries Graphics International focuses on increasing productivity and expanding creativity in sign and print shops worldwide. Our products include LED Wizard 7, Sign Wizard 7, and Neon Wizard 6.5. Find out more online at http://www.ledwizard.com or call us toll free at 800 294-7273.