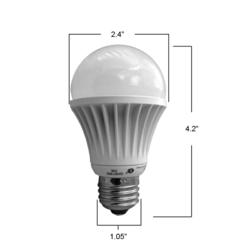 The low energy consumption of LED bulbs translates into producing 90 percent less carbon dioxide per household annually compared to incandescents, and about 65 percent less than CFLs.
San Francisco, CA (Vocus/PRWEB) December 27, 2010
San Francisco-based Elemental LED, an LED lighting company that brings revolutionary lighting to popular markets, recently began selling two new LED replacements for standard incandescent and CFL bulbs: The Tess 7W and 9W LED Light Bulbs. These light bulbs produce the same brightness as 40W and 60W standard light bulbs respectively, but use less than 20 percent as much electricity. The new LED bulbs screw into any standard E26/E27 base. That translates into major savings on electricity bills as well as a dramatically reduced carbon footprint.
Energy Savings with LED Light Bulbs
As the winter intensifies, lights stay on for more hours, and energy bills increase. That makes now a great time to invest in TESS LED bulbs and take advantage of the energy and expense savings the bulbs offer, whether for a home, office, or anywhere else standard lights are installed. LED Tess bulbs from Elemental LED are rated to last 50,000 hours, about 15 times longer than a standard 40W bulb. So with 80 percent lower energy consumption and dramatically fewer replacements, an LED bulb will save the user roughly $500 over its lifetime compared to an incandescent bulb.
Protecting the Environment with LED Bulbs
The United States government passed legislation in 2007 to phase out inefficient incandescent bulbs. By 2014 the sale of incandescent bulbs in the US will be banned entirely. Other governments have enacted similar reforms. To stop global warming, world carbon emissions must drop 70 percent by 2050. LED bulbs are a great way to work towards the elimination of 30 billion tons of annual carbon dioxide emissions, necessary to stop the gradual increase in world temperatures.
20 percent of the world's current energy resources are used to power lighting. Switching all lighting to LEDs could cut that to four percent. The low energy consumption of LED bulbs translates into producing 90 percent less carbon dioxide per household annually compared to incandescents, and about 65 percent less than CFLs. LED bulbs release less than 10 percent as much mercury gas as incandescents, and about 40 percent less than CFLs.
LED lights generate less landfill waste because of their extended life. The average consumer in the United States throws away 700 incandescents in a lifetime. This same usage level would equate to 70 CFL bulbs or 20 LEDs thrown away in a lifetime. Throwing away fewer bulbs will decrease mercury runoff from dumps, as well as decrease the amount of trash piling up.
Environmental Certification of LED Bulbs
The new LED bulbs offered by Elemental LED have undergone rigorous testing to ensure that they offer cutting-edge energy efficiency and safety to users, starting with the manufacturing process. The new LED bulbs are manufactured by TESS (Top Energy Saving System Corp., formerly Topco Energy Saving System Corp.), a Taipei-based firm focusing on practical strategies to protect the environment. The company's products and bulb manufacturing process are certified by Underwriters Laboratories, a leader in LED evaluation and standards. These bulbs use 5 Cree light emitting diodes, and hold RoHS (Restriction of Hazardous Substances) certification.
Upgrade to TESS LED Light Bulbs Today
The Tess 6W LED bulbs, and the new Tess 7W and 9W LED bulbs can be purchased in either warm white or neutral white by visiting the Elemental LED website. 6W bulbs are $24.99 each, 7W are $29.99, and 9W are $39.99.
About Elemental LED
Elemental LED is founded on the belief that everyone has the right to stylish, energy efficient LED lights. LED lighting technology is the safest, hippest, and most energy efficient way to light up our world. Visit us at http://www.elementalled.com.
###