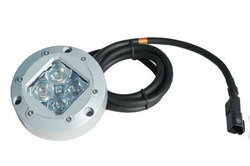 Kemp, TX (Vocus) January 20, 2010
Larson Electronics' magnalight.com announced the addition of the new LEDEUL4 LED underwater light that is rated for operation to 60 meters in depth. The specialized housing design with sealed off junction box guarantees watertight operation above and below water. While many LED underwater lights can operate only underwater for cooling purposes, the LED-EUL4 underwater LED light can operate above or below water. Offered with several different LED options, including white, blue, green, amber and infrared LEDs, the LED-EUL4 underwater LED light, producing 720 lumens, has applications ranging from engine room illumination to underwater vessel inspection. The hockey puck shaped LED light features an aluminum housing with anti-corrosive coating, measuring 4.25 inches in diameter and 1.25 inches thick. Drawing only 1 amp on 12 volts and running on 9-32 volts, the versatile low voltage underwater LED light is suited for low voltage operation on line supply or battery banks.
"We designed this underwater LED light using the same principles as our explosion proof lights," said Rob Bresnahan with Larson Electronics' magnalight.com. Inside the aluminum housing we built in a small junction box. The power cable comes into the junction box and then we completely fill and seal the chamber completely with an epoxy material. This is the same principle of using and EYM and filling the junction box on an explosion proof light with Chico. Nothing inside the light can get out and nothing outside the light can get in, including air, particles, water and moisture. Also, by encapsulating the LED array in aluminum, the housing becomes its own heat sink. While many underwater LED lights are designed only for underwater use in order to stay cool, this LED light dissipates heat properly underwater or above water. We wanted this light to work not only for boating applications or submerged applications at depth, but also for engine rooms, wash down areas, tunnels, waterways and other applications where the lights may only be wet or occasionally submerged. For example, many times people rely on our site glass lights to inspect material levels within tanks and vessels. The LEDEUL4 can actually be placed in the tank to provide an internal light source, so the operators can use the site glass to observe and record without obstruction.
Rob continued, "Like many underwater LED lights, our LEDUL4 underwater light is encased in stainless steel. However, we choose aluminum for the new LEDEUL4 underwater LED light. While stainless steel is non-corrosive in saltwater, it is a poor conductor of heat, so the LEDUL4 is best limited to underwater use only. One of the main issues with LED lighting is creating a housing that holds the LED packages while dissipating the heat effectively. LEDs produce a lot of heat. Ironically, heat will also destroy the LEDs or dramatically reduce their life hours. By surrounding the LEDs with aluminum in addition to other unique design elements, we pull this heat of the LEDs to effectively preserve their longevity. The aluminum housing enables the use of the LEDEUL4 underwater LED light in submerged or normal applications. To prevent corrosion, we use same anti-corrosive coatings that are used on aluminum boats, US Navy aircraft carriers and other seagoing craft that use a lot of aluminum. We choose a specific type of aluminum and specific coatings designed for corrosive environments. This coating doesn't give as attractive a finish as our existing underwater stainless steel LED lights, but we see broader industrial and military applications for the aluminum based underwater LED light. For example, we offer red, green, amber and blue LEDs and even infrared LEDs at 850nm and 940nm wavelengths within this LED light fixture. Our initial orders have been for illuminating junctions in water control tunnels, red light illumination in US Naval engine rooms, fountain lighting, chemical tank level inspection and underwater boat inspection lights for the Coast Guard. While we see the traditional LED boat light applications, we have a versatile LED light source for all kinds of commercial, industrial and security oriented applications. The light will operate at 180 feet below the water's surface or inside a 100 degree engine room equally well. In fact the light is designed to operate at ambient temperatures from -20 degrees C to 85 degrees C," Rob concluded.
Larson Electronics' magnalight.com offers a wide array of LED lighting, ranging from explosion proof LED lighting to underwater LED lights. The range also includes infrared MRAP LED lights, solar powered generators with LED light towers, handheld intrinsically safe LED lights and an extensive selection of low profile LED light bars for vehicles, equipment and boats. Backed by a 3 year warranty, the Magnalight LED lights are applicable alternatives to conventional halogen and HID lighting solutions. You can learn more at magnalight.com or 1-800-369-6671 (1-214-616-6180 international).
# # #