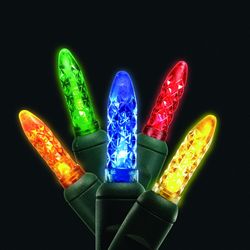 One of the issues the state had with switching to LED Christmas lights was the additional cost associate with having to remove the lights
(Vocus) October 5, 2007
HolidayLEDs.com, a new Michigan ecommerce company, recently offered to replace the State of Michigan's inefficient incandescent holiday lights with LED Christmas lights. Currently, the State does not remove the lights from the capital tree after the holiday season. The tree is taken down and placed into a commercial shredder—lights included. "One of the issues the state had with switching to LED Christmas lights was the additional cost associate with having to remove the lights," said Philip C. Curtis of HolidayLEDS.com.
According to State representatives, Michigan-based Consumers Energy has donated its equipment and some labor to install the lights at the beginning of the holiday season. "Apparently, there was some concern that Consumers would not donate these services to remove the LED holiday lights and it would cost the State too much money to take them down," added Curtis.
In order to help the State of Michigan overcome this obstacle, HolidayLEDs.com is challenging Michigan utility companies (or other companies who own lift trucks) to step to the plate and offer to donate its equipment and labor to help remove the lights from the capital tree at the end of the year.
LED Christmas lights are 99% more efficient than the current C9 incandescent lights the state is using. Making the switch to LED holiday lighting would conserve more than 35,500 KWh of electricity and save Michigan taxpayers more than $5,000 each year.
For more information please contact:
Philip C. Curtis
517.745.1217
phil @ holidayleds.com
http://www.holidayleds.com
# # #