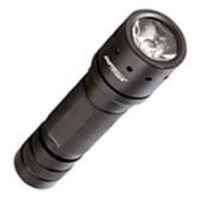 LED Lenser has created a powerful line of lighting tools for safety professionals
Portland, OR (PRWEB) February 19, 2008
LightsAndKnives.com, the Portland, Oregon based online retailer of discount LED lights and outdoor knives, is now offering the LED Lenser High Performance LL7731STB strobing light and the LL7733STB add-on strobing accessory as part of their product offerings through their online store. These are the first two products from the high performance line to become available to the public for retail sale.
LED Lenser HP tactical flashlights and torches are professional products built to withstand rigorous use by law enforcement personnel, fire and rescue crews, military personnel and industrial workers. These new performance products were announced at the February 2008 SHOT Show in Las Vegas, Nevada.
"LED Lenser has created a powerful line of lighting tools for safety professionals," stated Rob Willhite, Business Development Manager of DLK at LightsAndKnives.Com. "We are pleased to be the first to offer one of their most innovative products, the 7731 strobing light."
The LED Lenser 7731STB is constructed using a red LED light that produces 36 lumens with an effective range of 800 feet. The strobing tail cap switch at the base of the light enables users to strobe beams at 12 flashes per second.
"A strobing light, like this one from LED Lenser, can be used to incapacitate suspects in a non-lethal way by disorienting them long enough for law enforcement or military to take control of a situation," said Willhite. "It really is a powerful and safe tactic."
The 7731STB is made using LED Lenser's patent-pending Prism Reflector System. This technology uses a prism lens to step up the light output from a single high intensity LED, resulting in a bright beam of light that requires very little energy.
The 7731STB is 5.25 inches in length and is constructed of aluminum. The strobing light runs on 3 AAA batteries and has a battery life of 2 hours.
The 7733STB Strobing Tail Cap Switch add-on is also available now through lightsandknives.com. This accessory is compatible with the LED Lenser 7736TS Convertible Tactical Weapon Mount Light which, when combined, adds a strobing feature to that light.
Both the 7731STB strobing light and the 7733STB add-on strobing accessory are available for purchase individually or as a combination set. LightsAndKnives.com will offer the full line of LED Lenser HP products to its online retail customers as they are become available.
LightsAndKnives.com offers an assortment of LED light products and accessories including tactical led flashlights, camping lanterns, headlamps, hunting lights, fishing equipment, and home lighting lamps and bulbs.
About LightsAndKnives.Com
LightsAndKnives.Com is a leading online retailer of discount LED lights and knives. Based in Portland, Oregon, the company offers LED lighting options for general, professional, tactical, and outdoors use. Columbia sporting gear, whimsical Moppels, home lighting products, and kitchen cutlery are just a few of the many products sold by the retailer.
For more information about LightsAndKnives.Com, please contact Rob Willhite at (800) 964-3901.
Contact Info:
Rob Willhite, Business Development Manager of DLK
LightsAndKnives.Com
Portland, OR 97208
Phone: (800) 964-3901
Email: rob(at)lightsandknives.com
Web: http://www.lightsandknives.com
###