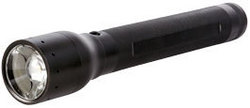 We are excited to be able to offer our customers the durability and strength of these professional grade LED light products developed by LED Lenser
Portland, OR (PRWEB) February 4, 2008
LightsAndKnives.com, the Portland, Oregon based online retailer of discount LED lights and outdoor knives, has added the LED Lenser High Performance line of professional torches and flashlights to their extensive online product offerings. The HP LED Lenser tactical flashlights and headlamps are professional products built to withstand rigorous use by law enforcement personnel, fire and rescue crews, military personnel and industrial workers.
"We are excited to be able to offer our customers the durability and strength of these professional grade LED light products developed by LED Lenser," stated Rob Willhite, Business Development Manager of DLK at LightsAndKnives.Com. "By offering this high performance line of products, we hope to make it easier for police officers, firefighters, military personnel and industrial workers to get access to the type of light products they need to do their jobs safely and effectively."
LED Lenser incorporates a new one-handed speed focus technology into many of the torches in the new high performance line and all are built using LED Lenser's state-of-the-art LED reflector systems. The flashlights, torches and headlamps are constructed using German methods for durability and strength.
Included in the product offerings is the P7 LED Lenser HP torch for law enforcement officials. This focusable light produces 167 lumens and has a battery life of 130 continuous hours. The P14 Led Lenser HP flashlight is built using a slightly larger casing to accommodate the larger AA battery and beams 172 lumens. The larger, robust P18 LED Lenser HP flashlight looks like a standard D cell police flashlight but casts 462 lumens of focusable light using LED Lenser's LED focusing system. All of these new products utilize the one-handed speed focus technology.
LightsAndKnives.com is offering the full line of over 18 LED Lenser HP products to its online retail customers. "We want to be able to put the power and strength of professional lights in the hands of anyone wanting a technologically advanced LED flashlight. The benefits of these lights can be appreciated by any outdoorsman," said Willhite.
These high performance LED lights will be included in the retailers' free standard shipping offer for orders over $100.
In addition to LED flashlights and torches for uniformed professionals, LightsAndKnives.com offers an assortment of LED light products and accessories including camping lanterns, headlamps, hunting lights, fishing equipment, and home lighting lamps and bulbs.
About LightsAndKnives.Com
LightsAndKnives.Com is a leading online retailer of discount LED lights and knives. Based in Portland, Oregon, the company offers LED lighting options for general, professional, tactical, and outdoors use. Columbia sporting gear, whimsical Moppels, home lighting products, and kitchen cutlery are just a few of the many products sold by the retailer.
For more information about LightsAndKnives.Com, please contact Rob Willhite at (800) 964-3901.
Contact Info:
Rob Willhite, Business Development Manager of DLK
LightsAndKnives.Com
Portland, OR 97208
Phone: (800) 964-3901
Email: rob@lightsandknives.com
Web: http://www.lightsandknives.com
###