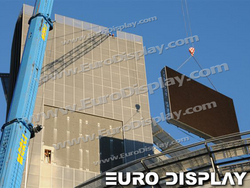 Our Customer didn't want to incline the LED screen, so we had to design a new frontal protection system to ensure an amazing side view angle of 170° without any distortion
Milan, Italy (PRWEB) December 4, 2008
EuroDisplay installed the biggest and highest outdoor advertising LED screen in Italy in a spectacular installation yesterday in Milan: with a surface of almost 100sq m and a weight of 13 tons, the LED screen was lifted up 50 meters by a huge 400 tons crane and fixed by 2 specialized technicians equipped with special climbing gear.
The entire process was caught on camera and a 3 minutes video summary of the spectacular installation, plus several pictures of the impressive LED screen installation can be viewed here: http://www.eurodisplay.com/led-screens-01.asp
"It's a unique screen," says Mr Fabio Aversa, Euro Display's Director of Sales, "because it brings together one of the most remarkable locations in Italy, with the biggest advertising LED screen ever installed outdoor in the Country."
Euro Display's management software enables the LED screen to visualize hourly updated local/national weather forecasts, international news and live videos to attract audiences with updated and interactive content. "And of course the LED screen is programmed to self adjust its brightness to any environmental conditions," says Mr Aversa.
The LED screen was designed by Euro Display technicians to deliver the highest image quality, even at extreme viewing angles due to the height at which the screen is installed. "Our Customer didn't want to incline the LED screen, so we had to design a new frontal protection system to ensure an amazing side view angle of 170° without any distortion," said Mr Aversa.
The huge LED screen was installed in Via Alcide De Gasperi and it is visible from the highly trafficated freeway exit of Viale Certosa, the very first exit which leads downtown to the FieraMilanoCity Exhibition Centre.
The installation procedure was impressive: the huge structure weighting more than 13 tons was lifted up to 50 meters where 2 technicians equipped with special climbing gear proceeded with the mechanical installation.
With almost 100sq m and a resolution of 800 x 640 pixels and over half a million highly selected LEDs, Euro Display's LED screen will become a landmark in sight of Milan Expo 2015, the universal exhibition which will be held in the fashionable city renowned for its lifestyle and glamour.
Euro Display Srl is the Turin (Italy) based LED screens manufacturer founded in 1978. Present in 37 Countries with over 600 installations, the Company has a few more records under its belt, as the biggest outdoor LED screen of South America (130sqm in the Dominican Republic). To download the ebook "How to make money with your LED screen" and to ask for your quotation online in 30 seconds Click Here.
Contact:
Mr Fabio Aversa
Euro Display Srl
Tel.: +39/011-954-1015
Fax: +39/011-954-1017
http://www.eurodisplay.com/
###