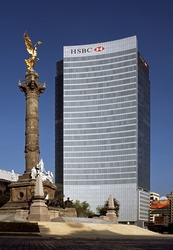 We hope this project serves as an example for greening the community and encouraging the Mexican government to offer more incentives for creating environmentally friendly buildings
Mexico City (Vocus) January 24, 2008
The HSBC Bank Headquarters Tower, located on the prominent Paseo de la Reforma in Mexico City, has become the first project in Latin America to achieve LEED Gold status. Established by the U.S. Green Building Council, the LEED Green Building Rating System is a voluntary, national standard for developing high-performance, sustainable buildings. The HOK-designed project previously earned the 2007 National Interiors Award and the top award for Corporate Interior Design from the Mexican Interior Design Association (AMDI).
With headquarters in London, HSBC is one of the world's largest banking and financial services organizations. When HSBC merged with another local bank (Bital) in 2002, the company purchased the new Torre Angel building on the Paseo de la Reforma – Mexico City's main thoroughfare – for its consolidated Mexican headquarters. Gisca, a major Mexico developer, awarded HOK the contract to redesign the building façade and public spaces, and HOK also designed the building interiors.
This project served as a pilot for HSBC as its Corporate Real Estate group began to rethink the company's global workplace standards. HOK helped HSBC study ways to increase the density of its Mexican headquarters building. Strategies developed for a 100-person pilot group include implementing alternative ways of working such as telecommuting, hoteling and space-sharing.
Several sustainable strategies helped the project achieve LEED Gold status:

Daylight is accessible to as many building occupants as possible through an efficient open office plan.
A 4,000 square-foot green roof reduces stormwater runoff, filters pollutants and CO2 out of the air, and reduces the urban heat island effect.
An onsite graywater treatment plant sends treated water to water closets and chillers and collects storm water for irrigation.
The team selected low-VOC carpeting and used GreenGuard certified furniture from Knoll, Herman Miller and Haworth.
Public transportation is convenient for occupants because of the site's close proximity to several bus stops and a public transit station.
The facility offers bike racks for employees on the ground level, and several local materials and resources were used during construction.
"We hope this project serves as an example for greening the community and encouraging the Mexican government to offer more incentives for creating environmentally friendly buildings," HOK Project Manager Javier Presas. "The project already has created more interest among developers, clients and architects in Mexico."
HSBC is the first major bank to go carbon neutral worldwide. According to the U.S. Green Building Council, buildings and communities are responsible for more than 40 percent of greenhouse gas emissions into our atmosphere.
HSBC Mexico represents HOK's 22nd project to earn LEED recognition from the U.S. Green Building Council.
HOK is a global architectural firm that specializes in planning, design and delivery solutions for buildings and communities. Through its collaborative network of 26 offices worldwide, the firm serves diverse clients within the corporate, commercial, public and institutional markets. HOK is committed to developing resources and expertise to help lead the world toward sustainable communities and building environments. Founded in 1955, the firm's expertise includes architecture, engineering, interiors, planning, lighting, graphics, facilities planning and assessment and construction services.
http://www.hok.com/sustainabledesign/
###