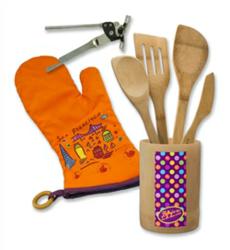 When I told my left-handed daughter about the store on Pier 39, her first comment was "did they have can openers?".
Laura H, Oregon
San Francisco, CA (PRWEB) October 25, 2011
Leftyslefthanded.com has designed and assembled the world's leading collection of left-handed cooking tools. After several years of research, product testing, and product development, Lefty's has built a collection which solves all the common lefty problems with kitchen tools, offered in a range of prices and styles. A new line-up of Left-Handed Gift Sets groups the most popular items into very appealing sets at several price levels.
The single most frustrating kitchen tool for left-handers is the can opener. Traditional can openers just don't work when used in the left hand. Lefty's Collection offers 4 different styles of left-handed can openers, and includes one in each of four gift sets.
Kitchen shears, like all scissors, are similar to can openers - mechanically backwards for lefties. Lefty's has two styles of these, and also includes these in several sets.
Lefty's popular Bamboo Cooling Tools Set is custom designed. With today's emphasis on ergonomic tools, the best spatulas, stirring spoons and wok tools are angled at the end - great for right-handers but useless for lefties. Lefty's commissioned their own set of sustainable bamboo cooking tools, which are offered at a very affordable price. In addition, the Collection includes two styles of elegant hand-made hardwood tools, as well as others in colorful silicone.
The majority of traditional measuring cups are marked so they can only be read when held in the right hand. Lefty's Collection includes a custom 2 cup flameware glass measuring cup which is marked for left-handed reading, and comes in a special lab-grade glass that can go directly over a flame.
Lefty's best-selling kitchen item is their line of left-handed drinking mugs - designed so they can only be used by lefties. Printed with lefty sayings like "I May be Left-Handed, but I'm Always Right", these dribble mugs are great fun (for lefties). When right-handers use them, the liquid in the mug drips out a tiny hole onto the person drinking. Lefties, of course, stay perfectly dry! These mugs all carry a warning, and one is even designed with a large hazard symbol.
With over 75 items, Lefty's Left-Handed Kitchen Collection includes thoughtful gifts for any left-hander. Even people who never cook need can openers and drinking mugs. Visit the website at http://www.leftyslefthanded.com, or drop by the stores at Pier 39, San Francisco, the Marketplace at Downtown Disney, Orlando, FL, or Old Town, Kissimmee, FL.
###