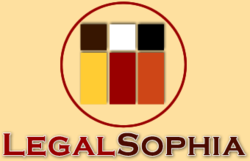 Our new company blog gives our clientele more tips on successful marketing practices and provides them with even more information about our firm.
-Jennifer Fall
New York, NY (PRWEB) March 11, 2013
Legalsophia, an Internet marketing firm for the legal profession, is pleased to announce the publication of a new company blog dedicated to news and information about search engine optimization (SEO), web design, online reputation management and social media marketing for law offices across the United States and Canada.
This new blog, at legalsophia.wordpress.com, will offer readers insights into new developments in social media like Facebook and Twitter, tips on successfully distinguishing oneself from competitors, and news about developments within the company. Legalsophia provides exclusive marketing campaigns to its elite clientele in personal injury, family law, and other firms in the legal industry. Legalsophia will offer articles that are designed to provide important tools for its clients and anyone interested in learning more about seo or social media trends.
Legalsophia clients include top firms that offer legal services for medical malpractice, estate planning, and class action suits related to product liability. The company has gained a reputation in the legal internet marketing industry for its unique organic campaigns where all work is executed in its offices in West Palm Beach and New York. Legalsophia is also noted for its exclusive partnerships preventing conflicts of interest by only representing one client per area of specialization and per market.
To learn more visit legalsophia.com.