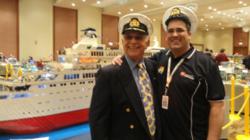 Santa Clarita, CA (PRWEB) June 22, 2011
A remarkable 9.5-foot-long replica of the original "Love Boat" – Pacific Princess – constructed entirely of LEGOs not only attracted the attention of fans at the Brickworld convention in Chicago, it even attracted the famous television show's captain, actor Gavin MacLeod.
MacLeod, a Princess Cruises ambassador, paid a visit to the convention to surprise the LEGO "Love Boat" creator, Ryan McNaught. One of the few master LEGO builders in the world, McNaught had no idea he would come face to face with the real "Love Boat" captain. Their meeting was captured on video, available on the Princess YouTube channel: http://bit.ly/iyPeTM
McNaught, who was even presented with his own captain's hat, called the experience "mind blowing – especially after seeing him on TV for all those years."
In return, MacLeod was astounded by the extraordinary ship constructed from more than 250,000 LEGO bricks. It's the largest single project ever undertaken by McNaught, the son of a Melbourne, Australia travel agent, and a cruise fan himself.
The model features the exterior of the famous ship on one side, while the other side is an open cutaway revealing all the action inside - from chefs in the kitchen to passengers working out in the health club. Flashing LED lights for the disco and tiny motors powering the propellers and elevators complete the replica.
MacLeod was also especially interested to see the ship features the TV show cast, with LEGO models of his own Captain Stubing, as well as purser Gopher, cruise director Julie, and even some of the show's most famous guests.
Brickworld, held annually in Chicago, is one of the largest LEGO conventions in the world.
Additional information about Princess Cruises is available through a professional travel agent, by calling 1-800-PRINCESS, or by visiting the company's website at http://www.princess.com.
About Princess Cruises:
One of the best-known names in cruising, Princess Cruises is a global cruise and tour company operating a fleet of 16 modern ships renowned for their innovative design and wide array of choices in dining, entertainment and amenities, all provided in an environment of exceptional customer service. A recognized leader in worldwide cruising, Princess carries 1.3 million passengers each year to destinations around the globe ranging in length from seven to 107 days. The company is part of Carnival Corporation & plc.
Princess Cruises is a proud member of World's Leading Cruise Lines. Our exclusive alliance also includes Carnival Cruise Lines, Holland America, Cunard Line, Costa Cruises and Seabourn. Sharing a passion to please each guest and a commitment to quality and value, World's Leading Cruise Lines inspires people to discover their best vacation experience. Together, we offer a variety of exciting and enriching cruise vacations to the world's most desirable destinations. Visit us at http://www.worldsleadingcruiselines.com.
For further information contact:
Karen Candy, kcandy(at)princesscruises(dot)com, 661-753-1540
Julie Benson, jbenson(at)princesscruises(dot)com, 661-753-1530
###