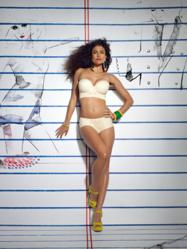 Bridal lingerie is becoming more decadent and luxurious, finishing touches and details are more intricate too.
Desborough, Northampton (PRWEB) March 15, 2013
The brand's website leialingerie.com allows women to buy lingerie online, buy swimwear online and buy sportswear online. Amongst its collections, Leia offer a number of bridal and special occasion lingerie ranges from popular brands, such as Freya, Fantasie, Fauve, Elomi and Huit – many available in sizes from an A to K cup.
Leia expect the popularity of their bridal ranges to increase heading into the wedding season as, traditionally, the months March to June are when sales of bridal collections rise – with the highest figures coming in May.
Leia retail principally from their online store, leialingerie.com However, they also have boutiques in York and Cardiff, as well as Kent's Bluewater shopping centre. The brand's own research indicates that, in the first instance, a majority of shoppers are researching different styles of bridal lingerie online, then visiting a store for a closer look at the products before making a final purchase.
The most popular bridal collections from Leia include Rosa from Fauve, Ava from Fantasie and Samantha from Fantasie. In terms of style, the best-selling look amongst brides-to-be is strapless, accounting for a third of total sales.
Traditional white and ivory lingerie remain popular choices with Leia shoppers. However, the brand have revealed that a growing number of women are opting for fashionable pastel shades. Illustrated by the positive performance of the pink lace Susanna collection from Fantasie.
When it comes to bridal co-ordinates, Leia have seen the most demand for the brief and thong. However, suspender belts and garters are also selling well, and appear to be purchased more often by women wanting to spend a little bit more on the complete bridal lingerie package.
Nigel Addison from Leia lingerie said, "Although the market is tough, we're pleased to see that online sales of bridal lingerie have risen compared to last year. Bridal lingerie is becoming more decadent and luxurious, finishing touches and details are more intricate too. It's encouraging to see that today's brides realise how important perfectly fitting lingerie is and as a result are spending more. "