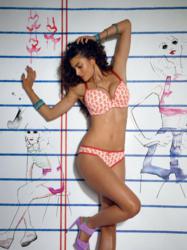 The MTC Paradise dessous show is an important exhibition for us, and a time to see our key German and European customers. Thanks very much to everyone that nominated Freya Swim and to all at Sterne der Wasche.
Desborough, Northamptonshire (PRWEB) March 22, 2013
Leia's website leialingerie.com allows women to buy lingerie online, buy swimwear online and buy sportswear online. When customers visit they can choose from a wide range of collections from popular swimwear brands, including Freya, Fantasie and Elomi - with many offering sizes up to a HH cup.
Known for its fashionable designs and perfect fitting swimwear available up to a JJ cup, Freya has been nominated as Swimwear Brand of the Year for large cup sizes in the Sterne der Wäsche Awards. Translated as "Stars of Underwear", this German lingerie industry event is held annually at Munich's MTC Paradise dessous and known in the trade as the "Undie Oscars".
The Sterne der Wäsche Awards recognise the best lingerie and swimwear brands on the market. The swimwear Brand of the Year is voted for by 500 specialty retailers.
The best-selling Freya Swim product of 2012 was the Pier collection; a range of swimsuits, bikinis and tankinis available in purple and, more popularly, black. The Freya Swim Fever collection (available in light blue and black) also continues to sell well, with the underwired tankini in the range accounting for 47% of Leia's tankini sales. The Fever underwired swimsuit is also proving a hit with customers who want the coverage but still fashionable.
Leia revealed that the months of May, June and July are the best-selling months for swimwear, as customers embark on their holidays.
Rosemarie Castillini, Manager for Freya in Germany said, "We're extremely happy that Freya has been nominated as swimwear brand of the year and more specifically for its recognition for larger cup sizes. The MTC Paradise dessous show is an important exhibition for us, and a time to see our key German and European customers. Thanks very much to everyone that nominated Freya Swim and to all at Sterne der Wasche."
About Leia
Leia has over ninety years of lingerie design experience and allows women to buy lingerie online, buy swimwear online and buy sportswear online – all whilst offering an affordable boutique experience. Sizes range from an A to a K cup. Leia principally retail through an online store, but they also have boutiques in York and Cardiff, as well as Kent's Bluewater shopping centre. To find out more about Leia, visit http://www.leialingerie.com