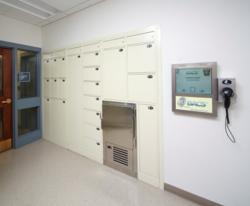 In addition to showcasing our BACS Systems at the show, we are excited to announce that we are going to raffle off a brand new iPad at the show
Auburn Hills, Michigan (PRWEB) September 26, 2012
LEID Products, LLC., the leader in electronic locker and cabinet storage with biometric asset protection and control, today announced they will be attending the 119th International Association of Chiefs of Police Conference(IACP) and Law Enforcement Education and Technology Exposition September 29 – October 3 in San Diego, CA. LEID will showcase the BACS Asset Management System and the new BACS Evidence Management System in booth number 4211 while at the show.
The IACP provides premiere education around important and timely law enforcement issues. This year, the show will feature renowned keynote speakers, forums and technical workshops, and the largest exhibit hall of products and services in the law enforcement community.
"In addition to showcasing our BACS Systems at the show, we are excited to announce that we are going to raffle off a brand new iPad at the show," said Sam Hoff, president of LEID Products. "Anyone who visits our booth can enter to win by leaving their business card. We plan to draw the winner on Tuesday, October 2 at 1:00pm."
The recently patented BACS Asset Management System was developed for LEID Products by Patti Engineering (http://www.pattieng.com) and is used to secure and track critical assets in law enforcement. The system is proven to save time and money, allowing law enforcement departments throughout the country to securely store and track weapons and valuable equipment allowing for full accountability of armory assets. A recent whitepaper released by the company outlines the financial benefits of the BACS System, highlighting that it saved a medium sized police department more than 2,000 hours per year.
The BACS Evidence Management System houses a kiosk with biometric ID reader for access verification and touch screen user navigation. The ID Station is interfaced to LEID's Electronic Evidence Lockers providing the secure temporary storage of evidence incoming and outgoing from police department property rooms. The system includes complete chain of custody custom software tracking and reporting capabilities to monitor all evidence transfers. Property room managers also have remote management capabilities to access, monitor and manage the system while off site. Additional layers of security can be added with options including: hand geometry scanner, ID card reader, RFID evidence reader, and evidence barcode reader. The North Andover Police Department in Massachusetts has already realized significant benefits after a month of implementing the system.
About LEID Products:
Law Enforcement Intelligent Devices (LEID), LLC is the leader in electronic locker and cabinet storage with biometric asset protection and control. Originally founded to assist police departments in securing guns, weapons, radios, etc. through an electronic tracking and fingerprinting system, LEID products are also utilized to track books within a library system, medical supplies, laptops and even business documents to selected personnel. Their Biometric Access Control Systems (BACS™) streamlines operations and provides full accountability for critical business assets. For more information and demonstrations of our products, visit http://www.leidproducts.com.