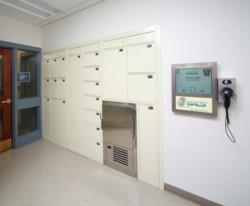 The North Andover Police Department is very happy with how easy the BACS Evidence System is to use.
Auburn Hills, MI (PRWEB) March 28, 2013
LEID Products, LLC., the leader of electronic locker and cabinet storage with biometric asset protection and control, today announced its participation at the Massachusetts Chiefs of Police Association Annual Trade Show (MCOPA). The annual event is taking place on Wednesday, April 3 at the Best Western Royal Plaza Hotel and Trade Center in Marlborough, MA. LEID Products will demonstrate secure storage and tracking for department assets, weapons and evidence in reseller SYSTEMATIC, Inc.'s booths #526-528. SYSTEMATICS, a leading provider of comprehensive storage and document management solutions, is the local dealer for LEID Products.
The BACS Asset Management System, a proven solution to secure and track critical assets for law enforcement departments across the country, will be on display in the SYSTEMATICS booth. The system encompasses the BACS ID Station Kiosk with biometric access interfaced to LEID's electronic SmartRail Gun Rack and Electronic Access Cabinets to ensure equipment protection.
The BACS Evidence Management System revolutionizes the way that police departments store and track evidence to ensure seamless chain of custody. LEID installed the BACS Evidence Management System in the North Andover Police Department in Massachusetts last fall. Impressed with the system's performance, five months after its installation NAPD welcomed LEID Products in to share the BACS system's benefits through a video. According to Chief of Police Paul J Gallagher, "The system is fantastic! The North Andover Police Department is very happy with how easy the BACS Evidence System is to use. All of our officers agree that the system makes their jobs easier. Dropping off evidence is a much faster process than ever before, and chain of custody has been significantly improved."
Officers can drop off and pick up evidence without having to track down the evidence officer. This saves time, resources and the potential that improper handling could negatively affect a court case where that evidence is required to come to a decision. BACS software provides reports by property number, case number, officer and date resulting in solid chain of custody reports. The system is offered with biometric access, LCD-keypad and/or an optional card reader. The system can be customized for departments with barcode or RFID evidence.
"Property and evidence control and tracking is a critical process for all law enforcement agencies," said Sam Hoff, president of LEID Products. "LEID Products' BACS Evidence Management System guarantees the procedure complies with proper chain of custody regulations by electronically locking evidence in tamper proof storage cabinets, only allowing access to approved personnel through custom software tracking controlled by biometric access."
MCOPA seeks to advance professional police services, promote administration, technical and operational practices, as well as foster cooperation and the exchange of information among police leaders. More than 1,500 law enforcement professionals from New England gather every year at its annual trade show to interact with chiefs, command staff, sheriffs, municipal officers and department heads.
To register for the MCOPA Annual Trade show, please visit http://www.masschiefs.org/events/event/5-mcopa-2013-show-vendors-and-exhibitor-registration.