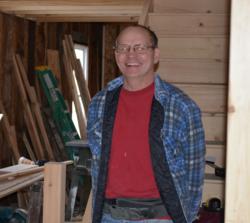 It is the individual, the homeowner, the community leader who is the main cheerleader and caretaker for saving and preserving our country's beautiful historic homes and buildings...Dave Muylle is...a deserving awardee.
Lansing, MI (PRWEB) March 29, 2013
On April 13th, in the state capital of Lansing, architectural artist Leisa Collins will present her first Leisa Collins Historic Preservation Award to local preservationist and craftsman Dave Muylle. Muylle has been passionately preserving and restoring local Lansing homes for more than 30 years. Collins, who has travelled across the country and logged some 25,000 miles painting historic homes and buildings, has started the award as a way to recognize individuals who have been instrumental in preserving the historic buildings of their area. The award consists of a Collins original framed painting of the individual's most recent restoration project.
"My award recognizes individuals rather than the restoration," comments Collins, who has painted over 450 pen and watercolor paintings of historic buildings and homes across 37 states. "In my travels I have come to recognize that it is the individual, the homeowner, the community leader who is the main cheerleader and caretaker for saving and preserving our country's beautiful historic homes and buildings. In their hands, the whole historic fabric and beauty of our country actually lies. I believe such dedication should be acknowledged which is why I began this award. Dave Muylle is a splendid example of such an individual and a deserving awardee."
Muylle is a licensed builder and long-time resident of Lansing. He specializes in recycling deteriorating homes in danger of demolition, rejuvenating them from the ground up and returning them to their original beauty and usefulness. He describes his work as "recycling homes" as he reinvents the interiors with a mixture of old and new including energy efficient heating, cooling, windows, insulation, and appliances. The Lansing Historic District Commission recognized Muylle's achievements with awards in 2000, 2002 and 2003. Likewise Preservation Lansing in 2012.
Some of Muylle's projects can be seen at 831 N. Washington Ave (Creyts Building), 225 Rumsey Avenue, 1521 Vine Street, 124 Regent Street, 127/129 Leslie Street, 139 Leslie Street, and 141 Leslie Street.
Collins, who travels back and forth to the area to see family, has painted 40 historic homes and buildings in Lansing and East Lansing. "Lansing has a tremendous number of wonderful historic properties which need preserving," continues Collins. "Many have been lost through the years and I hope by highlighting Dave's example with my award, others will join in and help preserve this community. This is what I am trying to do with my award across the country."
Collins' award presentation in Lansing will mark the first in a series across the USA as she heads westward toward California. In addition to painting historic homes and buildings throughout her journey, as in Lansing, she will be finding other worthy individuals in places along her trek and present them her Leisa Collins Historic Preservation Award.
"It is an exciting opportunity to meet and acknowledge some of the finest individuals who are preserving the heritage of our great country," she concludes.
Information about the Leisa Collins Historic Preservation Award is available on her website as well as a form for nominating someone for the award.
The ceremony for Muylle will be held Saturday, April 13, 2013 at 2:00 p.m in front of 141 Leslie Street, Lansing, one of Muylle's most recent projects. Collins will be joined by Valerie Marvin, the President of the Historical Society of Greater Lansing, in presenting the award.
ABOUT LEISA COLLINS
A native of Auckland, New Zealand, Leisa Collins embarked on her artistic career in the late 1970′s. Abandoning the confines of formal art training, she opted to learn her craft by traveling across New Zealand and capturing its rugged beauty on her canvas. Her first architectural paintings were of historic homes and buildings in Auckland. She enjoyed a successful six-year career in New Zealand before traveling to California, where she met her Michigan-born husband and has since resided in the USA. In addition to her landscape and semi-abstract works, Leisa has painted hundreds of homes, buildings and street scenes in New Zealand, Europe and in 37 states across the USA. She loves to get involved in her local community, has spearheaded several public art projects and regularly holds solo shows. Leisa travels extensively -- painting wherever she goes – but majorly divides her time between California, Virginia, Michigan and New Zealand.