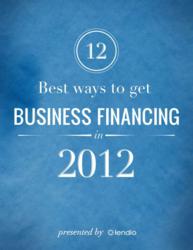 With this white paper, we wanted to help bring entrepreneurs and business owners out of the swamp of misinformation so they can get the capital they need to grow their business
Salt Lake City, Utah (PRWEB) January 10, 2012
Lendio published a white paper today on the 12 best ways to secure business financing in 2012. It's a free, 21-page document aimed to help any business trying to secure capital in today's lending environment.
To download the white paper or listen to a podcast around it, go here: http://www.lendio.com/blog/entrepreneur-addiction-18-12-business-financing/
"With the current economy, small business lending has definitely changed," said Brock Blake, CEO of Lendio, which has helped businesses secure over $300 million in capital over the last couple years. "But with those changes, there are many more options for business owners to get capital than there has ever been."
The white paper covers:

SBA loans
Peer-to-peer loans
Crowdfunding
AR and PO financing
Business credit
Acquisition loans
Equipment financing
Merchant cash advances
Other alternative options
With business loan approval rates hovering around 10 percent nationwide, the old ways of going down to the bank on the corner to get small business loans don't work like it used to.
"Let's face it," Blake said on a podcast around this white paper, "business owners today are focused on running their business. They're worrying about cash flow. They're worrying about sales. They're worrying about employees. They're worrying about all these things and they don't have time to keep up with all the financing options that are out there. They don't have time to think about interest rates. They don't have time to think about underwriting guidelines. They don't have time to think about lenders and who's going to finance them and who's not."
Many business owners might not even know some of these options like crowdfunding, peer-to-peer, PO financing, and merchant cash advances even exist.
"That's a big reason why small businesses struggle in securing financing," Blake said. "With this white paper, we wanted to help bring entrepreneurs and business owners out of the swamp of misinformation so they can get the capital they need to grow their business."
About Lendio
Lendio makes business loans simple by matching qualified small business owners with active banks, credit unions, and other lending sources. Through a proprietary matching technology, Lendio helps business owners identify the type of business loan and specific lenders that offer the highest probability for that business owner to prepare for and secure a business loan approval. Lendio is a free service for business owners. Lendio is venture-backed by Highway 12 Ventures and Tribeca Venture Partners. For more information, contact Lendio at press(at)lendio(dot)com.
###