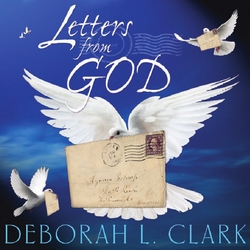 "There are few things that impact your life like a heartfelt letter, especially one that comes from God"
Great Falls, VA (PRWEB) November 26, 2010
The prophetess Deborah Clark, Author and creator of Letters from God Volume One was recognized today as one the most innovative and inspiring Christian Authors by members of The Off Da Hook prayercall sponsored by Believe & Speak Ministries. " Letters from God are truly inspired readings…" said Marlisa Cornitcher regular partner on the Off Da Hook PrayerCall. "The first thing I thought when I heard these letters was wow God is really speaking to me…" Marlisa Cornitcher was not alone in those sentiments. Each day nearly one hundred people participate in the Off Da Hook PrayerCall and every Tuesday on the call The Prophetess Deborah Clark shares these God inspired letters. "I have known Deborah Clark for nearly 20 years she's a very bright person, but these letters are truly Supernaturally Inspired…" said Shawn Cook, Minister, and PrayerCoach from Believe & Speak Productions, LLC.
"There are few things that can impact your life like a timely and heartfelt letter…" said Shawn. "Letters from God serve as a reminder that prayer is a two-way conversation. Often times we don't listen after we talk to God. I suppose God got tired of that and sent The Prophetess Deborah Clark to deliver answers that people have perhaps been praying about for quite some time. I'd highly recommend this as a gift for the holiday season for everyone. Letters from God Volume 1 is currently only available in Audio CD format. The print version will be available in the Spring 2011. Letters from God Volume One can be found on at the official website for Letters from God Volume One. http://www.lettersfromalmightyGod.com . Listeners can also locate sample letters on the website as well.
" It truly was God that called me to a period of sanctification where he started writing letters to me everyday…" said Deborah Clark. "I had no idea it would turn into something so powerful and liberating for so many people…" said Deborah. "The Off Da Hook PrayerCall has been a great vehicle for these letters but after numerous requests for copies after I read the letters each Tuesday, I knew that God was telling me that He wanted these letters available for the masses."
The introductory price for Letters from God Volume One is just $14.99 plus $4.95 shipping. Interested parties are encouraged to place their orders prior to December 7th in order to guarantee delivery in time for the Christmas Holidays.
###