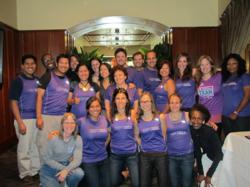 It's not necessarily how fast or how far you go, but really the time you spend on your feet that prepares you for event day
San Francisco, CA (PRWEB) January 23, 2012
With its combination of dedicated athletes and spectacular scenery, the Bay Area is the perfect place for ultra marathons, as the rising participation in Bay Area marathon training group Team In Training's Ultra Team has proven. Born out of long-time Coach "Mama Lisa" Felder's personal experience with and passion for long-distance running, this small but mighty Team In Training (TNT) subgroup has seen a recent surge in participation. More than twenty individuals have signed on to train for the [Tamalpa Headlands Ultra Marathon, a 50k (31-mile) trail run on August 25, 2012. And as a team they will raise more than $50,000 for The Leukemia & Lymphoma Society (LLS) to support blood cancer research and patient services.
A TNT coach since 1998 and an incredible athlete in her own right (with more than 110 ultra marathons under her belt), Head Coach Mama Lisa launched TNT's Ultra Team in 2010 with great success. Designed for the experienced runner looking for the next challenge, the ultra marathon training program involves six months of training with three phases: base building, endurance building and distance.
For most people, the response to the idea of running thirty-one miles is "why?" or possibly "how?" For a select few, the challenge is intriguing. For TNT alum Brian Ladrillono, it was more of a question of "why not?"
"My previous TNT experiences taught me that I am capable of doing more than I ever thought possible," he says. "So why limit yourself?"
For Brian's wife, May, it was bit more of a leap of faith. "Running has never been part of my routine, so jumping from the Nike Women's Half Marathon to an ultra marathon was a very big decision to make," she says. "My first concern when Brian joined was that family time would be scarce, or nonexistent. But rather than have him miss out on a new, exciting challenge, I decided to join him and take it on myself."
Coach Mama Lisa explains that the secret to preparing to take on a 31-mile trail run is proper training. The magic happens over a six-month training period that builds up endurance; the regimen involves short runs, track, and cross fit training during the week; long runs on Saturday; followed with a "run on tired legs" Sunday run.
"It's not necessarily how fast or how far you go, but really the time you spend on your feet that prepares you for event day," says Coach Mama Lisa.
As with Team In Training's core program, ultra marathon training takes team members to some of the most scenic locations the Bay Area has to offer, including Marin's Tennessee Valley, Oakland's Redwood Regional Park and Berkeley's Inspiration Point.
"You learn to fall in love with your surroundings," says May. "Ultra is hills, rocks, roots, mud and streams, so you learn to run dirty with nature and pay attention to where you are and where you are going."
Sunny Grosso, a TNT alum who participated in the inaugural Ultra Team in 2010, views the long trail runs as quality "me" time.
"You spend a lot of time surrounded by beauty, getting lost in your mind," she says. "I feel as relaxed and renewed after a long trail run as I do returning from vacation, but it takes a fraction of the time away and lasts much longer."
Sunny says the race day is a roller coaster of emotions. As she puts it, "You start off nervous and giddy. Light legs become heavy with the endless miles of trail running and doubt creeps in. But just as you are feeling defeated, a foreign strength, one that you never knew you had, rises up and carries you through. It's incredible."
"And then as you cross the finish line, you wonder if there's any real food left," adds Brian.
Team In Training has a program for marathoners of all skill levels, from experienced runners considering TNT's Ultra Team or first-timers just starting out. There's a wide range of events including half, full and ultra marathons; hike adventures; triathlons and cycling events. Visit http://www.teamintraining.org/sf or call 800.78.TRAIN for more information.
About Team In Training
Team In Training (TNT) offers marathon training, half-marathon training, and triathlon training. Individuals can also train for cycling events and adventure hikes. TNT began in 1988, when Bruce Cleland of Rye, NY formed a team that raised funds and trained to run the New York City Marathon in honor of Cleland's daughter Georgia, a leukemia survivor.
The team of 38 runners raised $322,000 for LLS's Westchester/Hudson Valley Chapter. Because of the pioneering efforts of Cleland and the Westchester/Hudson Valley Chapter, Team In Training was born and has grown into the world's largest endurance sports training program. Cleland was honored by Runner's World magazine in 2004 as one of their "Heroes of Running" for his role in establishing TNT.
Whether participants choose The Leukemia & Lymphoma Society's traditional Team In Training program or TNT Flex, a flexible, customized online training option developed by TNT's renowned coaches, they get all the support they need to cross the finish line at the marathon, half marathon, triathlon, century ride and hike adventure of their choice. Both offer a choice of world-class events, travel arrangements to an exciting destination, and a fabulous, activity-filled weekend once they're there.
About The Leukemia & Lymphoma Society
The Leukemia & Lymphoma Society (LLS), headquartered in White Plains, NY, with 68 chapters in the United States and Canada, is the world's largest voluntary health organization dedicated to funding blood cancer research and providing education and patient services. The LLS mission: Cure leukemia, lymphoma, Hodgkin's disease and myeloma, and improve the quality of life of patients and their families. Since its founding in 1949, LLS has invested more than $750 million in research specifically targeting leukemia, lymphoma and myeloma.
For more information about blood cancer, visit http://www.LLS.org or call the LLS Information Resource Center (IRC), a call center staffed by master's level social workers, nurses and health educators who provide information, support and resources to patients and their families and caregivers. IRC information specialists are available at (800) 955-4572, Monday through Friday, 9 a.m. to 6 p.m. ET.
###