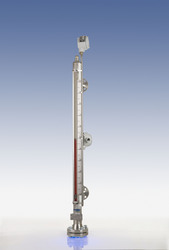 We're excited to introduce these important North American certificates
Hatfield, PA (Vocus) October 28, 2010
Brooks Instrument, a world-leading provider of advanced flow measurement, control and level solutions, has announced important CSA and CRN approvals for the Model 810 magnetic level gauge and associated transmitters and switches. These approvals verify Brooks' high quality and compliance with international standards that customer's value.
CSA International, the leading provider of product testing and certification services for the United States and Canada, has certified Brooks transmitters and switches to be intrinsically safe and explosion/flame-proof in Class I, Div 1 hazardous areas. ABSA (Alberta Boilers Safety Association), the pressure equipment safety authority for Alberta, Canada, has also issued a CRN (Canadian Registration Number) certificate for the Model 810 magnetic level gauge. Brooks expects to receive CRN certificates for the rest of the Canadian provinces shortly.
"We're excited to introduce these important North American certificates," said Mike Bayda, product manager at Brooks Instrument. "We have a very broad international certification portfolio, including IECEx, ATEX, EDF's K3 nuclear certifications, PED and many more, allowing us to meet a broad set of customers' requirements throughout the world and in many industries."
About Brooks Instrument
Brooks Instrument, LLC, based in Pennsylvania, is a company of highly trained specialists whose goal is to provide flow solutions that exceed customer expectations. The Company has a proven history of innovation including the first miniaturized Coriolis mass flow controller (Quantim), the first watertight and explosion proof thermal mass flow controller (Mf Series), the first thermal mass flow controller with Foundation Fieldbus (SLA Series), and the first variable area meter with Foundation Fieldbus (MT3809 & MT3750). Today, Brooks Instrument's portfolio includes glass and metal tube variable area meters (rotameters), thermal mass flow controllers and meters, Coriolis mass flow controllers, meters and transmitters, pressure control products, magnetic level instruments, and a variety of flow accessories. The Company also owns Key Instruments which offers precision machined acrylic flow meters, molded plastic flow meters, glass tube flow meters, electronic flow meters, and flow control valves. Brooks Instrument has manufacturing locations, sales, and service offices in the Americas, Europe, and Asia. For more information on flow solutions, products, or sales contacts please visit http://www.BrooksInstrument.com.
###