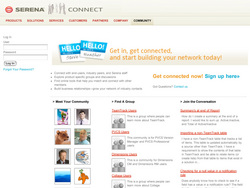 Our company culture is evolving as more and more employees join the community and engage with our customers
San Francisco, CA (PRWEB) September 5, 2007
Leverage Software, the leading provider of enterprise social networking and online community solutions, today announced that Serena Software has selected its CustomerConnect community-building platform to power their online community. The community will have the potential to connect over 15,000 Serena customers, employees, and industry peers to discuss and collaborate around the topics of business mashups, Application Lifecycle Management (ALM), project and portfolio management, application development, and IT process management.
Serena Software chose social networking as a way to better facilitate communication between customers and the company. "We knew customers were finding ways to communicate with each other and we needed to get actively involved in the conversation," said Steven Gibson, Director of Interactive Marketing at Serena Software. "By choosing a private-labeled social networking provider like Leverage Software, we were able to not only participate in the conversation but facilitate it as well."
Serena Software helps organizations improve their application development processes by providing tools for managing the entire application lifecycle across multiple platforms, architectures, methodologies, and locations. The company selected Leverage Software's CustomerConnect so that they could enhance their brand, connect with customers, and glean valuable community insight to use to improve their products and services.
Leverage Software's CustomerConnect is a hosted service that gives Serena Software the ability to design and manage their private labeled customer community. Serena easily customized the community by utilizing CustomerConnect's comprehensive feature set that includes blogs, file sharing, personal profile pages, discussion forums, PeopleMap matchmaking and more. "There were just a few ways for our customer evangelists to be showcased prior to launching our online community," said Steven Gibson. "Since launching the online community, our customers now have a voice. And more importantly they can connect with like-minded users and product knowledge masters inside and outside the company."
Serena customers benefit from the online community by having access to expertise like never before. Serena Software's marketing department drives the community project but all Serena departments, including product development and customer support are involved in sustaining and growing the online community. "Our company culture is evolving as more and more employees join the community and engage with our customers," said Steven Gibson. "Product managers and engineers are more agile in the development of our products as a result of having direct access to the spontaneous customer feedback from the community. And customers benefit because they can have direct conversations with the product managers, engineers and internal knowledge masters."
"Serena Software embraces enterprise social networking as a way to build customer loyalty and we're pleased they have selected Leverage Software as their vendor to power their online community," said Mike Walsh, CEO and Co-founder of Leverage Software. "We look forward to a long lasting partnership with Serena as they continue to strengthen their customer relationships and form new ones as their business grows."
About Serena Software, Inc.
Serena Software is the leading global independent software company focused solely on application lifecycle management for distributed and mainframe systems. More than 15,000 organizations around the world, including 96 of the Fortune 100, rely on Serena solutions to automate the application development process and effectively manage their IT portfolio. Serena is headquartered in San Mateo, California, and has offices throughout the U.S., Europe, and Asia Pacific. For more information on Serena solutions and services, visit http://www.serena.com.
About Leverage Software
With innovative enterprise 2.0 and knowledge management solutions, Leverage Software provides companies and organizations with scalable services to host and foster employee, customer, and partner communities where members can meet, build relationships, contribute content, and share ideas while giving companies a way to boost revenue and glean valuable insight to increase customer and employee satisfaction.
Leverage Software can be found powering the online communities and social networks for over 170 companies including Microsoft, Sun, HP, Salesforce.com, Charles Schwab, McKesson, Nielsen Media, InfoWorld, and The New York Times. For more information, visit http://www.leveragesoftware.com.
###