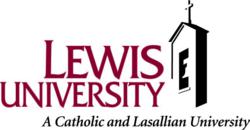 Romeoville, Ill. (PRWEB) November 12, 2012
Lewis University has been included on G.I. Jobs magazine's 2013 list of "Military Friendly Schools." The list recognized higher education institutions for policies that attract and support active members and veterans of the U.S. armed services.
G.I. Jobs looked at schools that do the most to welcome military students with dedicated staff, generous transfer credit policies and more. Lewis is one of just the top 15 percent of these schools, which represent the top tier of colleges, universities and trade schools in the United States.
To create the list, survey data was collected and schools were graded on a list of weighted criteria that included military support resources, academic credibility, percentage of military students, veteran graduation rates, academic credit for military service and more. The 2013 list includes more than 1,700 schools that have been deemed to offer military students the best resources and programs.
Military students will find a welcoming and encouraging learning environment at Lewis. In addition to the dedicated resources the university provides for service members, our online graduate degree programs have a wide array of applications in many fields, both military and civilian.
The Master of Science in Information Security program trains students in the latest theory and programs to effectively protect networks and data on a global scale. Students have the choice of a Managerial or Technical concentration depending on their career aspirations.
Students in the Master of Arts in Organizational Leadership degree program get insights into individual and group behavior to successfully manage and motivate people, skills that are highly valued in every industry. The program offers five concentrations for more specific professional goals: Organizational Management, Not-for-Profit Management, Public Administration, Training and Development, and Higher Education – Student Services.
The online Master of Science in Criminal/Social Justice program combines advanced management skills with advanced analysis of ethical and social issues that impact law enforcement and public safety professionals. These abilities are in high demand at local, state and federal law enforcement agencies.
Students in the Master of Science in Public Safety Administration program expand their problem-solving abilities in preparation for leadership roles in the public safety field, including law enforcement, emergency medical services, fire services and disaster response.
Military students who explore Lewis will discover a regionally accredited, non-profit university that offers highly respected online master's degrees in addition to its traditional, campus-based programs. Lewis focuses on developing the complete student with curricula centered on ethics, values and respect for each individual.
To learn more about the Lewis University's online degree programs, please request information at http://online.lewisu.edu/request-information.asp or call (866) 967-7046 to speak with a Program Manager.
About Lewis University:
Lewis University is a Catholic university offering distinctive undergraduate and graduate programs to more than 6,500 traditional and adult students. Lewis offers multiple campus locations, online degree programs, and a variety of formats that provide accessibility and convenience to a growing student population. Sponsored by the De La Salle Christian Brothers, Lewis prepares intellectually engaged, ethically grounded, globally connected, and socially responsible graduates. The ninth largest private not-for-profit university in Illinois, Lewis has been nationally recognized by The Princeton Review and U.S. News & World Report. Visit http://www.lewisu.edu for further information.