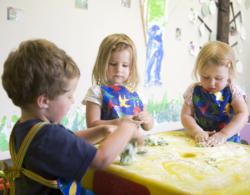 New York, NY (PRWEB) March 05, 2013
Who knows where the next Julia Child, Mario Batali, or Gordon Ramsay may be? Many Leading Hotels offer programs created specifically to introduce children to the fun and joy of cooking, with hands-on classes.
Among the host of activities that Anassa on Cyprus offers to keep children engaged and occupied is the resort's Little Master Chef program. Valid from late March to the end of October, this arrangement includes five nights' accommodation in connecting rooms for two adults and up to three children, 12 years of age or under. Also included is participation for one child in the Little Master Chef class, which takes place for one hour twice a week. Youngsters get the opportunity to pick herbs and fruits with the chef, as well as prepare a dish under his guidance. To commemorate the experience, they receive a child-sized apron, chef's hat and a copy of the recipe they made. Siblings can attend at an additional cost of EUR 25 per child per cooking lesson. Priced from EUR 2,900, the program also includes welcome drinks and a fruit plate in the room, daily breakfast and Wi-Fi access. A five-night stay is required and the booking code is PR.
Families staying at Acqualina Resort & Spa on the Beach in Sunny Isles Beach, Florida, from now until the end of May can benefit from the All About Kids Package. The three-night offer includes a Saturday cooking class for kids ages 5 to 12 taught by one of the chefs at Piazzetta, the resort's Tuscany-inspired marketplace and restaurant. During the hour-long session, the children make their own pizzas from scratch and watch them bake in the brick pizza oven. Plus they get to take home their chef's hat and apron. Also included in the package is a USD 50 credit for the whole family to enjoy at Piazzetta, a welcome amenity for the child, a bubble bath for kids set up on one night of your choice, and access the award-winning AcquaMarine class. A three-night minimum stay is required, to include a Saturday. Depending on the season, rates start at USD 500 per night. Booking code is S11.
A number of other Leading Hotels offer culinary experiences on an à la carte basis.
Little chefs can make it big at the Excelsior Hotel Ernst, where the cooking class for children with Chef Mirko Gaul is based on healthy as well as tasty cuisine. During this course the kids will gain first-hand experience in the kitchen and may stir the pots like a professional cook. To warm up, the children may test their skills at mixing "cocktails". Subsequently they will prepare a three-course-menu together and then savor the culinary masterstroke. With the necessary accessories, such as apron and chef's hat, the kids are optimally equipped for this kitchen experience. The session, which lasts about three and a half hours, is open to children between the ages of 7 and 12 and costs EUR 68 per child. (Offered March 18 and October 21.)
One of the newer members of Leading Hotels - Constance Lémuria Resort– includes a cooking class as part of the kid's weekly activity program. On Sundays, the kids are dressed up in their 'mini chef' uniform comprising trousers, shirt, hat, and apron. The Kids Attendants explain the activity, giving the aspiring chefs full details of the ingredients which will be used for the session. Participants then proceed to make waffles, all the while being closely monitored by the attendants. The results of the exercise then become part of the menu for the children's tea break. Photos are taken to document the different steps of the process to be displayed in the kids' photo library, and to be posted on the Kids Club notice board. Parents are also invited to attend the event should they wish to accompany their children and take some souvenir photos. Offered year-round, the class is currently free of charge.
The Biltmore in Coral Gables, Florida, has had a recreational cooking school since 2008. Offered during the hotel's summer camp sessions, hands-on cooking classes for young guests are taught by Biltmore chef instructors with special workshops by the acclaimed hotel chefs. The week-long offerings are open to children ages 8 to 16, and limited to 15 participants, to ensure individualized attention. Students are grouped by age and work in the resort's fully equipped, professional kitchen. Each day, a different cuisine is explored such as French, Asian, Italian and Latin. Once the dishes are complete, kids eat the fruits of their labors, and discuss what they prepared with the chefs, what went right and what may have gone wrong. Sessions run from 9 a.m. to 2 p.m., Monday to Friday, and are priced at USD 375 which includes lessons, lunch, all materials, a binder with the week's recipes and a souvenir apron.
What could be more natural than children learning to cook at an Italian hotel? At Villa San Michele outside Florence, the Young Chefs Academy gets future culinary greats off on the right foot. Classes are offered in June, July and August for ages 6 to 14. Sessions for a minimum of four students last for two and a half hours, during which time they learn to prepare delicious Tuscan and Italian specialities, such as tiramisù and pasta. Priced at EUR 150 per child, the experience includes the cooking activities, a portfolio of recipes, a School of Cookery apron, and lunch.
Also in Italy, at L'Andana in Castglione della Pescaia, children's cooking classes are offered twice a week, on Tuesdays and Fridays, from March to January. Each class lasts for two hours and includes a visit with the Chef to the hotel's garden to choose the best herbs, vegetables and fruits – including fresh, natural snacks. Produce from the garden is then incorporated in the recipes of the lesson, which may include pizza, fresh pasta, chocolate desserts, muffins or fruit cake. The cost of the class is EUR 70 per child, and at the end, each participant gets to keep a chef's toque and apron as souvenirs. During the summer season, the entire family can take part in weekend cooking classes.
For reservations, visit http://www.LHW.com. In the USA & Canada please call 1-800-223-6800 or contact a travel professional.
About The Leading Hotels of the World, Ltd. (LHW)
When extraordinary and one-of-a-kind intersect, you have likely found a Leading Hotel. As the largest luxury hotel collection, with more than 430 of the world's greatest properties in over 80 countries, we seek out the exceptional. From grand palaces to intimate city hideaways, from ancient castles to sumptuous safari tent villages, from tropical aeries to mystical paradises, all are utterly unique and boldly independent. Each celebrates the culture of its destination, rather than trying to mask it with corporate-mandated sameness. Established in 1928 by several influential and forward-thinking European hoteliers, it started with 38 initial members. With our eight-decade-long commitment to providing unforgettable, authentic travel experiences, LHW selects only hotels that meet our high standards for quality and distinctiveness. To us, hospitality is not an industry; it's an art…and our passion.