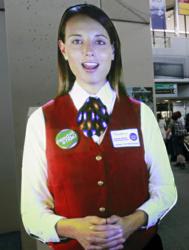 We are extremely excited about the success of AVA, said Patrick Bienvenu, COO of Airus Media. Our virtual assistant truly reflects our passion for quality work and development of innovative and technologically advanced products.
Tampa, FL (PRWEB) August 03, 2012
Newark Liberty International Airport has a new employee "Libby". Libby is the airport virtual avatar, created by Airus Media, Inc. (DBA airportONE.com). Designed specifically for airports, Libby will provide basic information to arriving international passengers. Dressed just like one of the Authority's customer care representatives, Libby twiddles her thumbs while idle, smiles, and looks in different directions until approached by a passenger, at which point she politely speaks, delivering preprogrammed content to passengers.
Future versions will be multilingual and will employ voice recognition technology.
Libby truly gets the passenger's attention and delivers a clear and consistent message, 24 hours a day, seven days a week. Other versions of the advanced virtual assistant (AVA) are being installed at John F. Kennedy International Airport and LaGuardia Airport for the Port Authority of New York and New Jersey.
airportONE.com is also under contract to install airport virtual avatars at airports throughout the US.
airportONE.com is the creator of AVA and is the premiere manufacturer of Airport Virtual Assistants in the USA.
airportONE.com advanced virtual assistants are truly attention getters, look like holograms, are incredibly lifelike and represent the next generation in advertising and way finding.
airportONE.com designs produces and manufactures all aspects of the virtual assistant in house which results in quick turnaround and unmatched quality.
Over the years, Airus Media (DBA airportONE.com) has gained a reputation for innovation and quality and is the premier, award winning airport movie maker in the USA.
More information contact Patrick Bienvenu via email or voice at (813) 982-1920.