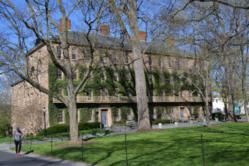 We've got to educate students about the important of entrance exam preparation.
San Diego, CA (PRWEB) November 12, 2012
LiberalArtsColleges.com, an online college preparation site, recognizes the fact that students aren't always adequately prepared by their high schools for college. While high schools do their best, many students fall through the cracks, leaving them unprepared for college entrance exams and that first year of college.
"We've got to educate students about the importance of entrance exam preparation," says David Donohue, publisher of the site. "If students want to perform well on entrance exams, they must complete more than basic high school coursework. Many students would benefit from specific test prep materials."
Donohue points out that not all college entrance exams are the same, and not all students prepare for tests in the same way. "The ACT and SAT differ significantly, both in format and in what skills they test." If a student discovers he or she will perform better on one test, this information can make the difference between acceptance or rejection to their college of choice. In some cases, that college entrance exam score may also play a significant part in determining how much merit aid a student will be eligible for.
Donohue also seeks to put college prep courses and services into perspective. "Not all students need to pay for an expensive college prep program. Some students can prepare for exams on their own, with little or no supervision, using an online course or a prep book. Other students require accountability in the prep process and would benefit from one-on-one instruction." The LiberalArtsColleges.com website strives to describe each type of test preparation service in detail so students will only enlist for the preparation services that are truly needed.
The site offers a comprehensive overview of why it's important to prepare for entrance exams and that first year of college. It also offers free resources that will help students improve their chances of getting into their college of choice. Donohue says, "Our goal is to help students prepare as much as possible without emptying their pocketbooks. Students need to save money for college, so they should invest their limited amount of financial resources carefully. Some level of investment in preparing for college entrance exams makes sense."
About LiberalArtsColleges.com
The new website, LiberalArtsColleges.com, provides more than statistics and private college listings. The site offers current information and valuable links to resources that will help students not only choose the best colleges to meet their goals, but also to prepare for the college application process. This improves their chances of being accepted into the college of their choice. Students can learn more by visiting http://www.liberalartscolleges.com