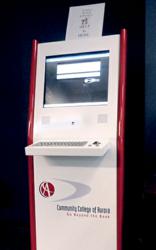 My expectation is that we'll increase student retention and completion by having the support resources that they need on that campus to help them with their research projects
Denver, Colorado (PRWEB) February 19, 2013
The Learning Resource Center at CCA, a Colorado community college, is literally branching out, becoming one of the first institutions to use an assist from 21st century technology, previously earmarked for other educational purposes to expand library services.
Four new touch screen kiosks will allow career and technical education (CTE) students at Lowry – one of CCA's two campuses – to access all of the institution's databases, receive 24-hour chat access, and individual research assistance.
The company that manufactures these innovative kiosks, ZIVELO, has assisted other educational institutions around North America with interactive machines that have served to display registration information, campus maps and diagrams, assist with financial aid office services, advertise jobs, and more.
But with CCA's Lowry campus missing a centralized library, a creative vehicle was needed to allow for better access to the institution's databases and individual research assistance without a large-scale capital improvement project.
Community College of Aurora was able to use nearly $76,000 in Perkins Project grant funding over the next year to finance the self-service kiosks and increase the reach of library services to a larger segment of the student population. CTE programs such as Paralegal, Criminal Justice, Art and Design, Business, and EMT training will initially benefit, with a long-range plan of serving all students in future years, since grant funding is specifically limited to CTE projects.
"Over 50 percent of the students at CCA attend classes at Lowry, so we need to have the same services there," said Megan Kinney, the college's director of Library Services.
The first kiosk appeared in the Lowry campus' West Quad in late January. Other machines will be installed at the Center for Simulation, Colorado Film School, and North Quad. All of the kiosks are expected to be installed and operational by early April.
"So much of what we do is electronic and online in terms of the resources themselves...This is kind of a physical manifestation of the Learning Resource Center at Lowry," Kinney said.
Classroom sessions also will help fill the information vacuum that previously existed on the Lowry campus outside of Science and Law libraries that already had physical presences. A web page and a short video will be created at http://www.CCAurora.edu to promote the revamped services. New student and faculty orientations will be targeted in spreading the word. The Lowry information desk also is expected to have information in hand.
The long-range plan is to renew Perkins grant funding for another year while accumulating quantitative and qualitative data about how the services affected student retention and grades.
Self-service technology has seen widespread use worldwide nearly every branch of the US military, to global retailers and airports. Some of the myriad uses of similar kiosks that ZIVELO manufactures are for donations, bill breaking, ticketing, transportation, order entry and numerous other applications.
Community colleges in four states, two Canadian universities and the University of Baylor Museum in Waco, Texas, are among the many institutions embracing kiosk technology within the educational field.
Kinney has high hopes for the success of the devices within the library framework.
"My expectation is that we'll increase student retention and completion by having the support resources that they need on that campus to help them with their research projects."
About CCA
Community College of Aurora has campuses at CentreTech and Lowry in the greater Denver area. Equipped with the latest technologies, CCA allows students to study new and traditional programs, while also offering learning through the Internet as a community college online. CCA's service community spans 325,000 people in a 350-square-mile area and CCA's student population reflects that diversity. The college provides lifelong educational opportunities, prepares the current and future workforce, and promotes excellence in teaching, learning and service.