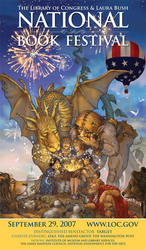 Through its comprehensive support of early childhood reading, including the Letters About Literature program and the National Book Festival, Target is helping to instill a love of reading in kids as the foundation for lifelong learning.
Washington, D.C. (PRWEB) August 14, 2007
Library of Congress announces 70 award-winning authors to participate in the Seventh Annual National Book Festival, organized and sponsored by the Library of Congress and hosted by Mrs. Laura Bush. The free Festival will be held from 10 a.m. to 5 p.m. on Saturday, Sept. 29, on the National Mall in Washington, D.C., between 7th and 14th streets (rain or shine).
This year 70 well-known authors, illustrators and poets will discuss their work in the following pavilions: Children; Teens & Children; Fiction & Fantasy; Mysteries & Thrillers; History & Biography; Home & Family; and Poetry.
Participating authors include fiction and fantasy writers Joyce Carol Oates, Jodi Picoult, Harry Turtledove, Edward P. Jones and Terry Pratchett. The History & Biography pavilion will feature Pulitzer Prize-winning historian David Kennedy; Ken Burns and Geoffrey Ward, authors of 'War: An Intimate History, 1941-1945'; Michael Beschloss, whose most recent book is 'Presidential Courage: Brave Leaders and How They Changed America'; and ABC News correspondent and author Jan Crawford Greenburg.
Authors and illustrators of books for children and teens include Coretta Scott King award winner Ashley Bryan; Newbery Medal winner Patricia MacLachlan; 2007 Caldecott winner David Wiesner; M.T. Anderson, winner of the 2006 National Book Award for Young People's Literature; Gene Luen Yang, who received the Michael L. Printz Award for excellence in literature written for young adults; and Rosemary Wells, the recipient of numerous awards and citations.
Popular authors in the Mysteries & Thrillers pavilion include J.A. Jance, Lisa Scottoline, David Baldacci, Deborah Crombie and Stephen L. Carter. In the Home & Family pavilion, book lovers will meet, among others, barbecue king Steve Raichlen; Emmy award-winning chief medical correspondent for CNN Dr. Sanjay Gupta; and Cat Cora from Food Network's Iron Chef America.
The newly appointed U.S. Poet Laureate Charles Simic will be featured in the Poetry pavilion. Also participating will be Jack Prelutsky, who has been named by the Poetry Foundation as the nation's first Children's Poet Laureate. Other prize-winning poets in the pavilion will include Kevin Prufer, Jon Stallworthy, Anne Stevenson and Diane Thiel.
In the Teens & Children pavilion, the six national student winners of the Letters About Literature program will read their personal letters to authors who inspired them. Sponsored by the Library's Center for the Book with support from Target, this reading and writing promotion program invites young readers in grades 4-12 to write personal letters to authors, past or present, who have changed their views of the world or of themselves. Each year, winners are selected at the state and national levels. Target awards the national winners and their parents with a trip to the National Book Festival to share their winning letters with the festival audience. "It is inspiring to see the number of young people whose lives have been positively affected by a particular author or book," said Laysha Ward, vice president, community relations, Target. "Through its comprehensive support of early childhood reading, including the Letters About Literature program and the National Book Festival, Target is helping to instill a love of reading in kids as the foundation for lifelong learning."
The Pavilion of the States, sponsored by the Institute of Museum and Library Services (IMLS), will highlight reading, literacy and library promotion activities in all 50 states, the District of Columbia and several American trusts and territories. IMLS representatives will also be providing information about its library initiatives, including the Laura Bush 21st Century Librarian Program to recruit and educate the next generation of librarians.
In the popular Let's Read America pavilion, there will be a wide variety of fun-filled reading promotion games, prizes, crafts and performances developed by festival sponsors for children. Popular characters including Clifford the Big Red Dog, Curious George, Arthur, Cassie from TALES, Maya & Miguel, the Berenstain Bears, Jay Jay the Jet Plane, Zoboomafoo, Piggley Winks, Ruff Ruffman from FETCH!, Leona from BETWEEN THE LIONS, Mr. McFeely the Speedy Deliver Man from MISTER ROGERS' NEIGHBORHOOD" will be on hand to greet kids and pose for photos. Miss Frizzle and The Magic School bus will also be making a stop at the festival.
The Library of Congress Pavilion will feature a variety of interactive family-centered activities illustrating the depth and breadth of the Library's extraordinary collections available online. Computers will be available for festival-goers to explore the Library's acclaimed Web site at http://www.loc.gov. Information about conserving photographs and valuable documents as well as the Library's digital preservation program will be provided. The Library will share the latest technologies in film and audio preservation developed for its new Packard Campus in Culpeper, Va. A group of veterans who appeared in the Ken Burns film "The War" will be interviewed by Veterans History Project (VHP) historian Tom Wiener. Other VHP programs in the pavilion will feature editors of the upcoming publication "The Library of Congress Companion to World War II"; veterans whose stories are told in the 2008 Veterans History Project Wall Calendar; and veterans interviewed for the last published book by celebrated journalist David Halberstam ('The Coldest Winter: America and the Korean War').
For the full list of participating authors, illustrators and poets, their books, and other activities at this year's National Book Festival, please visit http://www.loc.gov/bookfest.
SPECIAL NOTE: A media repository with background materials, high-resolution images, video and audio sound bites, b-roll and other audiovisual resources can be accessed via the Press Registration link at http://www.loc.gov/bookfest. Media may also submit author interview requests via this link.
###